---
The Amber Technology team have hit the road to bring our portfolio of brands and products to life. This week we are in Brisbane, following our first Showcase at our Head Office in Sydney. Check out the photo gallery from our Brisbane event.
---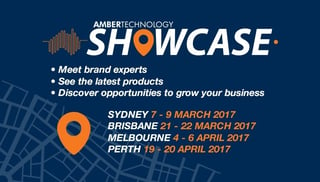 If you would like to register for the Roadshow coming to Melbourne and Perth in April, use the link below:
If you haven't registered for the Brisbane event, we have open house drop-in from 4-6pm each day. Feel free to drop by and see what the Amber Technology team have to offer.
---