---
The Amber Technology team are currently in Melbourne, following Showcases in Sydney and Brisbane in March. Check out the photo gallery from the Melbourne event.
---
The Melbourne Showcase has two rooms loaded with residential and commercial AV products. This week we are joined by factory reps from Gefen, Sonance, iPort and Optoma, supporting our five National Brand Managers and two Victorian sales staff.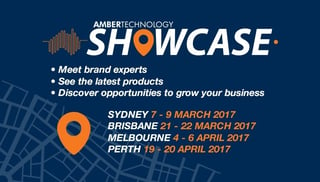 If you would like to register for the final Roadshow in Perth after Easter, use the link below:
If you haven't registered for the Melbourne event, we have open house drop-in from 4-6pm each day. Feel free to drop by and see what the Amber Technology team have to offer.
Other Showcase Photos: Sydney and Brisbane.
---