This versatile piece of hardware is the best sounding all-in-one audio recording interface for Mac. It offers ultra-low latency performance, comprehensive studio functionality and legendary Apogee quality,
Ensemble is the best choice to meet the diverse demands of the professional home or commercial studio. Ensemble features premium Apogee AD/DA conversion, 8 Advanced Stepped Gain™ mic preamps, monitor controller functionality including talkback, front panel Guitar I/O, two headphone outputs and digital connectivity for a total of 30 x 34 I/O.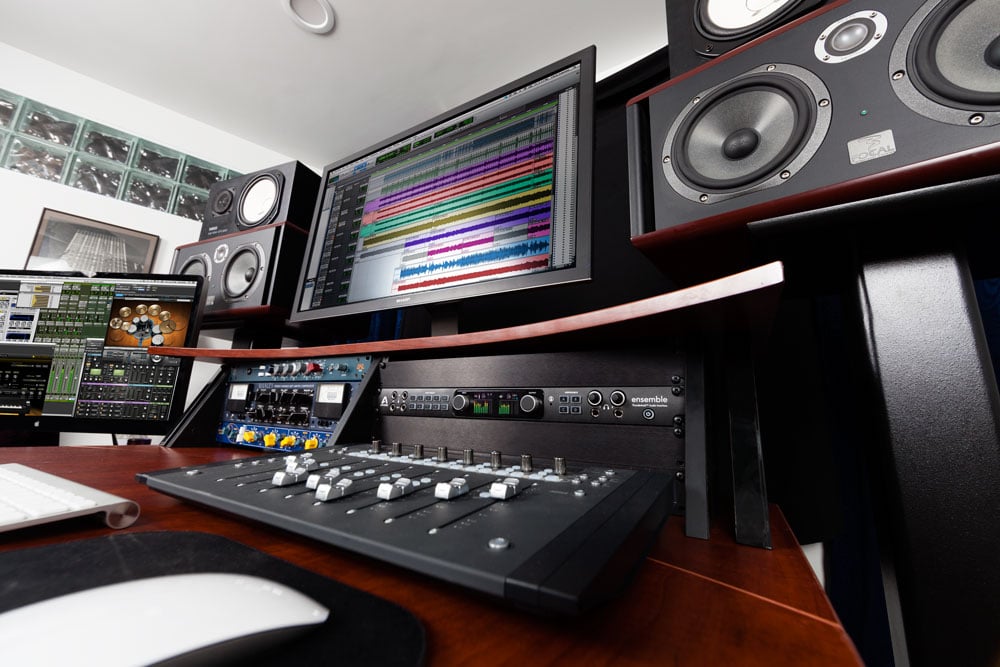 Ensemble Thunderbolt Highlights
8 Mic preamps with up to 75 dB of gain and Advanced Stepped Gain circuit
Legendary Apogee AD/DA conversion
Thunderbolt connectivity for ultra-low latency (1.1ms round trip with Logic Pro X)
Front panel Guitar I/O with Class A JFET inputs, dual mode re-amp outputs
Talkback functionality with built-in mic and control button
2 PurePower headphone outputs
10 separately assignable analog inputs
16 analog outputs of premium Apogee conversion
Core Audio optimized DMA engine frees up Mac CPU for plugins and software instruments
Apogee Control software offers highly customizable workflow and Essentials Control Strip window
Compatible with Apogee Control hardware remote studio controller
Connect two Ensembles to your Mac and double your analog inputs and outputs
Connect any Apogee Element series interface to Ensemble for additional Ensemble quality inputs and outputs


Hybrid of Software and Hardware
Apogee pioneered a simplified user interface that has inspired countless other competitors. This is a hybrid approach – essential hardware control complemented by comprehensive software control. Ensemble's front panel represents the next level of refinement, offering the perfect balance of dedicated control and flexibility.

Input control with selection buttons and controller knob
Ensemble makes it easy to access all important recording and monitoring functions. Simply press an input selection button on Ensemble's front panel to select a desired input and easily adjust your level with the input controller knob. All input selection buttons feature an LED highlight ring. The highlight ring of the selected input is brighter so you can see at a glance which channel is in focus. Press and hold the input select button to select and adjust different parameters for each channel such as input type, +48v phantom power, Soft Limit, grouping, polarity invert and hi-pass filter.

Dual, high-resolution displays show all input and output details
Two high-resolution OLED displays deliver all the visual feedback critical for recording and monitoring. Without looking at your computer, Ensemble lets you see metering, levels, grouping and polarity, muting, phantom power and Soft Limit for all inputs and outputs.

Monitor/Output Controls
Ensemble's Monitor control provides everything you need to master your listening environment. Choose between the two 1/4" monitor outputs, one of three stereo speaker sets (depending on which is selected) or a 5.1 surround sound system. Set your speaker and headphone levels with dedicated front panel controller knobs, Apogee Control software level controls or your Mac volume controls.

2 Independently Controlled Front Panel Headphone Outputs and Controls
With the kind of discrete transistor output stage found on power amps, Ensemble's two independently controlled front panel headphone outputs offer more pristine power than ever before. Drive high impedance headphones louder than you'll ever need while maintaining ultra low distortion throughout the level range.

Assignable Buttons
Four configurable buttons (labeled A, B, C, D) allow you to quickly access functions such as "Engage Talkback", "Mute Outputs", "Dim Outputs", "Sum to Mono", "Clear Meters" or "Engage Speaker Set". Each function can be assigned to a button using a drop-down menu in the Apogee Control software.

Talkback
When asked to identify his favorite microphone, one savvy producer answered "the talkback mic!" Effortless communication enhances the flow of your session, so Ensemble includes flexible and convenient talkback functionality. Use either Ensemble's Built-in microphone, an external mic connected to one of Ensemble's inputs, or your Mac's built-in mic to communicate directly with the recording
performers through both headphone and line outputs. Engage talkback from Apogee Control or from the front panel Assignable buttons. No other audio interface offers such a comprehensive talkback system.

Ensemble's assignable buttons can be configured in Apogee Control software to switch between up to 3 pairs of speakers, allowing you to use Ensemble just like a standard monitor controller. Simply connect 1, 2 or 3 pairs of studio monitors and press the corresponding assignable button (A, B, C or D) to select which pair you would like to listen to.

To locate an Apogee dealer click here.
To speak to someone from our friendly Apogee team, click here.