Apart Audio offers a handy tool to select the right loudspeaker for your next installation project.
Hans Timmermans, Technical guru at Apart Audio , offers some advice to help you on your way.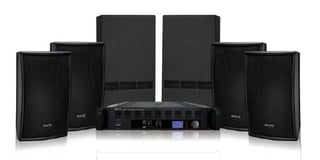 When a potential customer submits a request for an installation they will generally describe the application where the system will be used e.g. restaurant, office, warehouse. They usually won't ask for a specific quantity or model.
Therefore it's up to the installer or dealer to look for the right product for the customer's application. In the wide range of products that Apart Audio offer, it isn't always simple to find the right product in a blink of an eye.
In order to make life easier Apart have created an online catalogue - "Apart Product Selector". In order to find the right loudspeaker for your application, you need to answer some simple questions using the Apart Audio selector tool online.
After making your selections, all Apart loudspeakers matching your answers will appear. Additional filters can be applied to narrow the selction to just a few models.
Also available for mobile
There is also a handy App version available for IOS and Android in the Apple App store or Google Play store. The App can be found by entering Apart Audio in the search engine.
The App on your mobile or tablet gives you access to Apart product information on the go. Plus the Product Selector is not only selecting loudspeakers, but also amplifiers, pre-amplifiers and sources.
Once you have selected the best matching loudspeaker, you just need to contact Amber Technology to place your order before the installation begins.