Legendary FOH Mix Engineer Kevin Elson captured crystal clear sound with DPA d:facto™ 4018 Vocal and d:vote™ 4099 Instrument Mics.

Elson has spent the past four decades producing, mixing and touring with an incredible list of musicians and bands including Journey, Van Morrison, Michael Jackson, Aerosmith, Mr. Big, Lynyrd Skynyrd, Foreigner, Bush, Jewel, Carole King and Europe. Elson started mixing with the New Kids On The Block in 2011 and the 2017 Total Package Tour was his fifth tour with the band.

During the late 80's and 90's, New Kids On The Block took the world by storm with their super-catchy songs and clean cut good looks. New Kids On The Block is proving it still has the right stuff with sold out arenas on its 2017 Tour.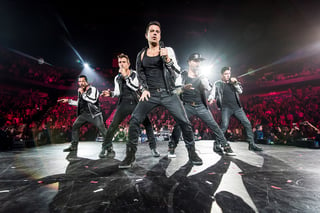 Their FOH Mix Engineer Kevin Elson chose DPA Microphones for the tour " I was able to use the d:facto™ 4018 Vocal Microphone on the New Kids On The Block cruise about a year ago. I tried it on one of the guys for a solo performance and he really liked it a lot, so I told him I wanted to mic the whole group for the Total Package Tour."
Elson used d:facto 4018 mics for all of the New Kids' vocals, as well as the d:vote 4099 on the toms. "On the vocal side, I found the d:facto 4018's are such solid, reliable mics," adds Elson. "Instead of taking everything away to try to make them sound full, I ended up being able to add some air up top. This allowed me to work the microphones rather than the mics dictating what I did. As far as drums, we got less cymbal bleed into the toms' mics. The cymbals were pretty close, maybe an inch of clearance, and the d:vote 4099 did a great job of eliminating splash from the cymbals and isolating the toms."
One of the qualities Elson really likes about DPA mics is its ability to control ambient noise and feedback. "During most of the show, the guys were singing between 40- to 100-feet in front of the PA and the d:facto 4018's worked great," says Elson. "I really loved how they can sing in front of the PA and we didn't have all of that crazy ambient noise in the mics. In the past, we had a lot of feedback problems, especially with the New Kids On The Block stage setups. With the d:facto 4018's, when the guys were singing, you didn't have all that ambient noise coming in. The rejection on them was really great and they still sounded solid when the guys backed off the microphones."
"Management has said how great the vocals sounded on this tour. People out front heard nice, clear vocals. The DPA mics are a great live concert mic."