What is the Learning Glass?
Learning Glass Lightboard technology is simple: LED lighting on specialized glass creates a transparent white board that illuminates writing with neon markers. As its inventor, Dr. Matt Anderson continues to improve the design and function of the Learning Glass. Our illumiclear™ technology eliminates problems with smudging and glass defects, creating a cleaner, crisper image. The Learning Glass Lightboard also provides built-in lighting for the instructor without the expense and hassle of external studio lights. Just plug it in, flip it on and make magic!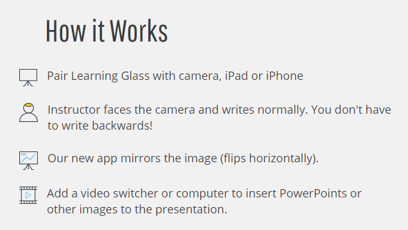 Learning Glass was created by Dr Matt Anderson, Physics Professor at San Diego State University, Learning Glass allows lecturers and presenters to scribe instructional text and drawings onto a transparent glass board, while the audience can see through to the scriber.
The Learning Glass lightboard has internal lighting to illuminate clear and crisp writing or drawings, while using a camera that electronically flips the image to enable the audience to read text in the correct direction.
Learning Glass technology provides K-12 to higher education institutions, businesses and media production companies an innovative solution to deliver engaging and informative content, while improving the viewer's experience.

To locate a Learning Glass dealer click here.
To speak to someone from our friendly Learning Glass team, click here.