Remote Monitoring Module is handy for controlling your Contacta HLD7 and HLD9 hearing loop drivers from a distance and issuing fault alerts. This nifty piece of kit saves on time and the expense of travelling and can change the way you set up and monitor Contacta drivers.
Features
Fault alerts are sent straight to your inbox

.

Contacta hosts emails on their cloud server, making the all-in-one solution remotely accessible.

Registering for an account is easy. All you need is your email address.

Gives you the peace of mind knowing your loop drivers are up-to-date and in working order.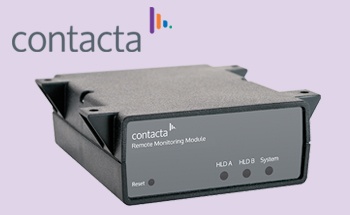 HLD7 and HLD9 Compatible
The Remote Monitoring Module accessorises our HLD7 and HLD9 large area hearing loop drivers and gives a remote visual indicator and control of two HLD7s or HLD9s in standalone configuration, or a pair of HLD7s or HLD9s in phased array configurations.
You can change both drive levels and loop output level through Contacta's internal web service. This can be done through either a desktop and on mobile devices, without having to return the driver(s) and incurring further costs in installation.
Alerts
The module has the added benefit of such features as self-monitoring and alert signalling if a fault occurs. The system keeps track of certain functions that trigger an automatic alarm, including:
Loop aerial disconnect

Power failure

Communication failure

General output stage failure

Overheating
To locate a Contacta dealer click here.
To speak to someone from our friendly Contacta team, click here.