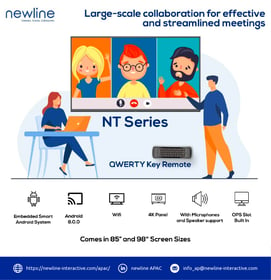 NT Series - Non Touch Display

Streamlined innovation

Created with your team's needs in mind, the NT Series brings you all the collaborative tools a TV screen lacks so you can work easily, effectively & hassle-free. Streamline your meetings, lessons and presentations with a display that focuses on just the tools you need to succeed.

Conveniently non-touch

Save time by using a display designed entirely for what you need. The NT Series streamlines how you communicate in meetings or in the classroom by focusing on being a brilliant, easy to control display.
Embedded microphone for calls and voice control

The NT Series comes with a built-in microphone array for conferencing calls and voice control.

With echo cancellation, noise reduction, and reverb removal, be understood no matter your acoustics and have a crisp, clear audio experience.
Wireless screen sharing made simple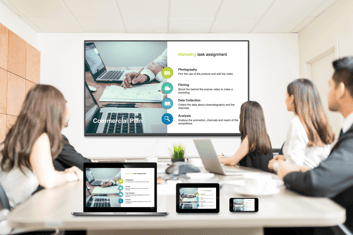 Wirelessly cast your screen onto the NT Series, cable-free. Newline Cast is built into the display to make it easier than ever to connect and share any content from your screen.

Open and manage files directly on the display

Easily access your documents from the cloud directly on the display. Manage files and pull them up on the large screen, even if you forgot to bring your personal device or flash drive with you.
RS+ Interactive Display
Interaction made easy.

RS+ Series brings efficiency to your classes and teams so you can interact with ease, anytime. With a lightweight slim frame design, Windows system and built-in OS support, embedded tools and a personalised user interface, it's the perfect solution to seamless collaboration in school and in the office.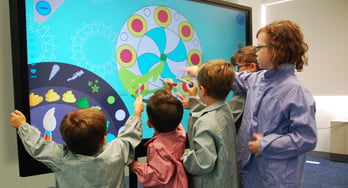 Interact with the whole group
RS+ Series supports up to 20 points of touch, allowing multiple users to interact at the same time. With smooth and responsive touch, anyone can take notes, write and draw on the screen, making the classroom a truly collaborative space.
Featuring Intelligent Touch
The whiteboard supports object recognition that can differentiate your finger, stylus, and palm, then react as a marker, thin pen, or eraser.
Customise the interface to meet your needs
Whether you need a display for your classroom or conference room, the RS+ Series lets you easily change the screen theme and personalise the user interface on your built-in operating system. Keep the home screen simple while giving your team quick access to any tools they might need.
To locate a Newline dealer click here.
To speak to someone from our friendly team, click here.