The technology industry is constantly evolving and as solutions become more computerised, the reliance on networking and firmware also grows. It is vital that customers have access to clean, stable power for any sized installation so as to remain strong in the long run. Niveo Professional's full range of high-quality UPS (Uninterruptible Power Supplies) are made to offer installers and specialists the protection they need from power failure, spikes and surges in a small footprint, true double-conversion.
Benefits include:
Output power factor 0.9
User-friendly and easy-shift LCD design
Rack/Tower design ECO and advanced ECO mode for energy saving
Output voltage regulation < 1%
Ranging from 1KVA to 10KVA, the Niveo NUPS23 range of UPS's have enhanced output power factor of 0.9. The range couples flexible rack/tower form factor with easy-shift LCD panel design and is suitable for networking, telecom, server and mission-critical applications. Designed with ease of install as a focus, the range ensures utmost convenience and usability, without compromising on the highest of technical standards.
As power failures most often occur without notice, these problems can destroy or corrupt critical data, destroy unsaved work sessions, and damage hardware — causing hours of lost productivity and expensive repairs.
Are all UPS the same?
No. There are in general three categories of modern UPS.
Niveo Professional's UPS offer the highest level of protection - True sine-wave Double Conversion online. They are ideal for today's AV systems.
1) True sine-wave Double Conversion Online UPS take an incoming voltage, rectifies it and down converts it to the battery voltage of the UPS, filters it, re-inverts it and up-converts it to the appropriate voltage. Given their configuration, the output voltage of an Online UPS is always stable and the sine wave is always pure. Given voltage always passes through the battery, there is zero transfer time to go from failed mains voltage to battery power.
Your output power quality should show a pure sine wave, however mains electricity networks are prone to introducing 'dirty' power, and devices within a building can also introduce distortions. One basic example of this is when your fridge turns on, and you can see your lights flicker. All these small fluctuations to the sine wave (called 'noise') are amplified by all sorts of devices and once these fluctuations get to a certain amplitude, the 'noise' can become audible – mostly represented as a humming from speakers.
Pure sine wave systems are the only way to ensure 'clean' power. Niveo Professional's Double Conversion Online UPS produce a pure sine wave output.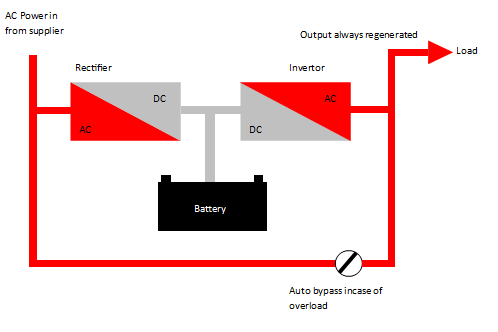 Lower cost 'Standby/Offline' and 'Line Interactive' UPS do not offer the same protection, filtering or lifespan compared to 'Double Conversion Online' UPS.
2) Standby/Offline UPS is another term for a battery when speaking in practical terms. These batteries offer backup power when there's a blackout. An offline UPS doesn't offer any sophisticated power regulation to guard connected devices and data from surges and power fluctuations. There is a delay for Standby/Offline UPS's to switch over to battery power when mains power has failed, forcing attached systems to shut down and start up in half a second. This is one of the most damaging things you can do to electronics, especially to sophisticated AV componentry.
3) Line Interactive UPS has a quicker response time (2 to 10 milliseconds) to switch to the battery when mains power is lost and have some measure of automatic voltage regulation (AVR) and surge suppression. Lower-priced Line Interactive units will put out a stepped, or modified, sine wave but higher-priced units will produce a pure sine wave. Also, higher-end units will go to battery in a brown-out (to boost output voltage) and in an over-voltage situation (to lower or "buck" the voltage).
A UPS is not an auxiliary or emergency power system or standby generator. The on-battery runtime of most uninterruptible power sources is quite short; 5–15 minutes being typical for smaller units but is enough to permit for bringing an auxiliary power source online or to properly turn off the protected equipment.
Optional Connectivity Card
Niveo Professional offers an optional SNMP (Simple Network Management Protocol) card to suit their UPS range. Adding this card allows:
Control and monitoring of multiple UPS through an RJ-45 network connection
Real-time dynamic graphs of UPS data (voltage, frequency, load level, battery level)
Warning notifications via audible alarm, broadcast, mobile messenger, e-mail and
SNMP traps
Historic data log stored in centralised PC database
Simple firmware upgrade with one click
Password security protection and remote access management
With a Niveo UPS, you can safely eliminate the effects of power disturbances and guard the integrity of your equipment.
To locate a Niveo Professional dealer click here.
To speak to someone from our friendly Niveo Professional team, click here.