Digital Projection have released four new projectors worldwide, and you will be able to find out more about their release in Australia and New Zealand later this year at Integrate 2018.

The TITAN laser 37000 projector features 37,000 Lumens and is an impressively bright and powerful laser projector, ideal for the most demanding large-venue applications when bright, pin sharp images are required.

The class-leading 3-Chip DLP projector features the very latest in connectivity, including DisplayPort, HDMI 2.0 and HDBaseT and features Constant Brightness Control and DMX Art-Net compatibility.

The compact chassis houses the most advanced optical engine, which uses liquid cooling with radiators to remove energy to the outside environment. Its optical system – from the laser light source up to the lens – is completely sealed and rated at IP60. This provides a near maintenance free solution by ensuring light output and colour performance will not degrade due to the ingress of dust.

The system is also liquid-cooled via a radiator heat exchanger to create a filter-free projector, providing virtually non-existent cost of ownership.

The Digital Projection M-Vision Laser 21000, E-Vision Laser 13000 and E-Vision Laser 11000 4K-UHD complete the comprehensive single-chip projector range already available, with the added benefit of IP60-rated sealed optics and a built-in colour boost technology.

Structured within Digital Projection's 1-Chip range of DLP laser projectors, the new ColorBoost + Red Laser technology delivers the most accurate colour reproduction, bringing performance ever closer to that of a 3-Chip DLP projector.

The use of red lasers, coupled with a specially-designed colour wheel, assure no loss of brightness and enables the projector to produce more vivid, saturated and life-like images than has previously been possible. The resulting colour gamut guarantees the projector will achieve at least the REC709 standard.

M-Vision Laser 21000 WU features an unprecedented 20,000 lumens output and a 10,000:1 contrast ratio, to provide budget-sensitive applications a large-screen imaging solution and near 3-Chip performance at a 1-Chip price point.

Venues in need of a powerful yet budget-conscious large-format imagery solution without sacrificing on colour accuracy, as well as those contending with ambient light, will benefit from the M-Vision 21000's class leading light output, contrast ratio and colourimetry.

Its DisplayPort accepts frame rates up to 60 Hz and HDMI 1.4b for Side by Side, Frame Packing and Top Bottom 3D formats. Motorised shift, zoom and focus across the whole lens range offers extra flexibility and ease of setup.

A robust, compact and reliable projector, the E-Vision Laser 13000 WU uses advanced graphics processing from Digital Projection's flagship 3-Chip projectors.

The E-Vision Laser 13000 features HDMI 1.4b, Display Port and HDBaseT connectivity, while accepting both commercial and domestic 3D signals. Projector automation is controlled centrally via a PC based application as well as edge blending and geometry correction.

The E-Vision Laser 11000 4K-UHD features increased brightness at 10,500 Lumens alongside 4K UHD resolution (3840 x 2160).

Visit Amber Technology on stand A2 to find out more about the exciting new Digital Projection models from our DP Business Development Manager Emilijo Mihatov. The M-Vision Laser projector and Highlite Laser projector will be operational during the show, so be sure to stop by to see what's possible with Digital Projection.

New models available December 2018.
Key features
TITAN laser 37000
37,000 Lumens (WUXGA)
33,000 Lumens (4K-UHD)
WUXGA or 4K-UHD Resolution
18,000:1 Contrast
Sealed Optics
20,000 hours illumination
Laser Phosphor
Edge Blending
Geometry Correction
Projector Control Software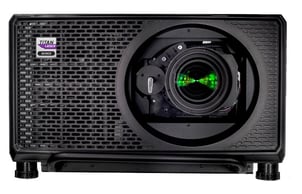 M-Vision Laser 21000
20,000 Lumens
WUXGA Resolution
COLORBOOST+ Red Laser Technology
Fully Sealed Optics
20,000 Hours Illumination
Laser Light Source

Portrait and Landscape

Capable
E-Vision Laser 13000
12,500 Lumens
10,000:1 Contrast
COLORBOOST + Red Laser
Sealed Optics
WUXGA Resolution
20,000 Hours Illumination
Laser Light Source

Portrait and Landscape

Capable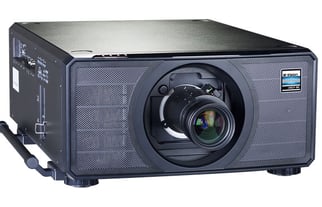 E-Vision Laser 11000 4K-UHD
10,500 Lumens
6,000:1 Dynamic Contrast Ratio
4K-UHD Resolution
1 x 0.67" WQXGA+ TRP UHD DMD

Portrait and Landscape

Capable
DisplayPort

1.2 and HDBaseT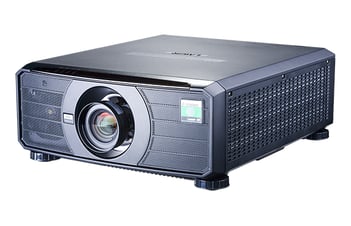 E-Vision Laser 13000
12,500 Lumens
10,000:1 Contrast
COLORBOOST + Red Laser
Sealed Optics
WUXGA Resolution
20,000 Hours Illumination
Laser Light Source

Portrait and Landscape

Capable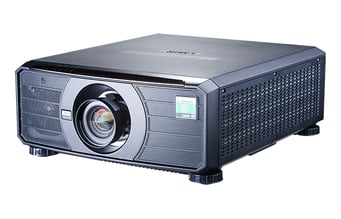 To locate a Digital Projection dealer click here.
To speak to someone from our Digital Projection team, click here.