Building on its leading position as a supplier of 4K projectors to the residential market, Optoma has launched an exciting new 4K model for the mid-range business/commercial market.
For applications requiring high definition 4K imagery, the Optoma 4K550 professional installation projector provides accurate, razor sharp, high-quality images.
The 4k550 projector uses the Texas Instruments XPR imaging device to display 8.3 million pixels on screen, from its 4K (3,840 x 2,160) HDMI input. The high-efficiency lamp produces up to 5,000 ANSI Lumens, and its life is rated at up to 5,000 hours when in Eco mode.
Designed with installers in mind, the 4K550 incorporates an array of useful features, including:
15% vertical shift

RS-232 or LAN-based control, supporting Crestron RoomView, Extron IP Link, AMX dynamic device discovery and PJ-Link protocols

Two HDMI inputs (one with MHL support) and one VGA input

USB power port to support local streaming devices such as Chromecast or Firestick

12V trigger out

Wide 1.6x zoom range (throw ratio 1.39 - 2.22; lens included)
Great features at a great price
Perhaps more noteworthy than the technical specifications is the price: when released in early January 2019, the 4K550 will hit the market at an RRP of just $5,499 inc GST. The attractive combination of price, resolution and features establishes a new benchmark in the mid-range business/commercial projection market.
Facilities installing more than one projector can benefit from using the built-in software allowing control of multiple projectors from one central location. The software enables each projector to be remotely monitored, managed and controlled in different rooms from one central computer. Users can manage up to 250 projectors at one time from one central device, altering settings and setting up email alerts for warning messages via the simple to use web browser page.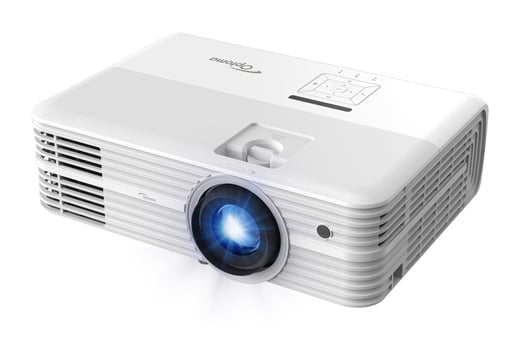 Features
DLP 4K UHD chip 3,840 x 2,160 resolution
5,000 ANSI Lumens contrast ration 10,000:1
XPR technology
HDR technology (DR10 signals with four selectable picture modes: normal, bright, detail, film)
BT.2020
DCI-P3 wide colour gamut coverage
Vertical lens shift
3D support
Quiet operation
AMX compatibility
PJ-Link compatibility
Creston RoomView supported
Projector dimensions (HxWxD) 12 x 39 x 28cm
5.8kg
Optoma 4K550 professional installation projector RRP $5499 inc GST - Available January 2019.

More to come...

Following soon after the 4K550 will be the short-throw 4K550ST, which is fitted with a high-precision fixed 0.78 throw ratio lens that can project a 100"diagonal image from just 1.7m. General features of the two machines are similar (4K, RS-232/LAN Control, I/O configuration), with the 4K550ST offering 4,500 ANSI Lumens and 10% vertical lens shift.

The 4K550ST will be priced at an RRP of $5,999 inc GST when it arrives in February 2019.


To locate an Optoma dealer

click here. To speak to someone from our friendly Optoma team,

click here.