In addition to a comprehensive display of Tactical mesh data networks, Video encoding, distribution and accessories, this year at MilCis sees the launch of some important innovations from Amber Technology, including:
Tethered Drone
The Elistair Orion is a purpose-built tethered drone system capable of flying communications relays and cameras at a height of up to 80 metres. The Orion has been developed exclusively for tethering with rugged motors and safety systems that permit operation in congested areas over extended periods.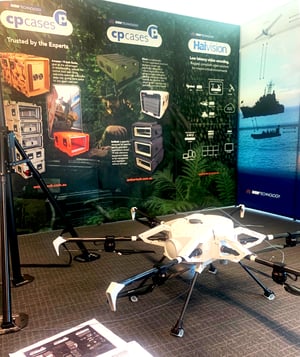 Tactical Mesh Data Link
The Australian-built TMDL incorporates a Silvus MN-MIMO Radio together with a control processor and several additional I/O ports into a single lightweight integrated package optimized for UxV applications. Combining the interface and data link packages into a single unit optimises SWaP and simplifies design for Remote Controlled Vehicles.
Silvus Receive Station
The SRS – 1 integrates a Silvus MN-MIMO Radio into a compute and display device that is rugged and man-portable for field and vehicle deployment. Again designed and built in Australia, the SRS-1 responds to a demand from deployed teams for a simple integrated device capable of running mission-specific software and incorporating the Silvus data link, GPS and PTT subsystems.
Silvus "E-Series"
Continuing the introduction of the E-Series radios into the Asian market, this will be the first time the new IP68 Enhanced Silvus radios are seen at MilCis.
Haivision Video Encoding and Distribution
Ruggedised Encoders, Transcoders and Distribution platforms facilitating sharing and access to personal and platform video across teams.