The PICOBLU is the ideal solution for any type of residential installation. It goes beautifully with the FLEX series of wall mount speakers
The
Australian Monitor
PICOBLU
is one of the newest additions to the Australian Monitor range of mixer amplifiers. A 30-watt, true half rack amplifier with both high and low impedance outputs and built in Bluetooth.
Featuring 30 watts of high or low impedance output, Bluetooth® as well as one balanced microphone and two unbalanced RCA inputs, its small, half-rack width form factor make it the ideal solution for any application space.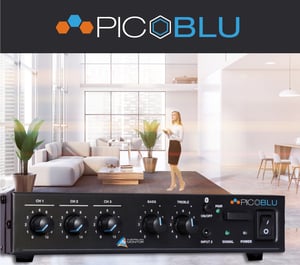 The optional mounting brackets offer true installation flexibility allowing the PICOBLU to be mounted under a counter, on a wall or in a standard rack
Features
30W mixer amplifier
3 Channel Mixer. Input 1 - MIC/Line, input 2 - 3.5mm/Line, Input 3 - Bluetooth/Line
100 volt or 4-ohm output
Bluetooth
3.5mm TRS jack line input
External mute contact closure
Small form factor
Rack or desk mounting kits options
Contact your account manager today to arrange a demonstration. Also don't forget to ask about the FLEX series of wall mount speakers and the QF Premium range of ceiling speakers.
To locate an Australian Monitor dealer click here.
To speak to someone from our friendly Australian Monitor team, click here.