SurgeX's SEQ-1210i rack mount sequencers provide the sequencing parameters, conditioning, shutdown thresholds and surge protection needed to safeguard audio, video, broadcast and computer equipment.
While it's often important to 'power up' devices in a rack in a particular order (e.g. network switches first, control systems next, slow-booting end-points after that, and anything else last)
SurgeX SEQ-1210i does not require any programming. This rack-mounted (1RU) power conditioner and sequencer provides:
Two always-on IEC outlets

Four banks of two IEC outlets that power on in sequence (and power down in reverse sequence)

Simple, front-panel control to set the sequence intervals
Easy contact-closure or applied voltage to initiate the sequence

Cascade output to extend the sequence into additional SEQ-1210i sequencers

Full suite of SurgeX surge elimination and power conditioning technologies

Advanced Series Mode surge elimination (eliminates surge energy up to 6,000V with no sacrificial components (MOVs))

Impedance-tolerant EMI/RFI filter
COUVS (Catastrophic Over/Under Voltage Shutdown)

ICE (Inrush Current Elimination)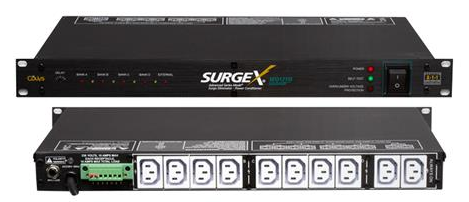 The SEQ models feature one "virtual" bank for controlling remote units, allowing for infinitely expanding distribution schemes. They are engineered with Advanced Series Mode surge elimination technology to provide top-of-the-line protection. Superior to conventional MOV circuitry or MOV-Hybrid designs, they completely eliminate surge energy up to 6,000 volts without producing harmful side effects such as earth contamination or common-mode disturbances.
Available now ex stock from Amber Technology.
To locate an SurgeX dealer click here.
To speak to someone from our friendly SurgeX team, click here.