Neutrik have announced the discontinuation of all powerCON TRUE1 series connectors and will be replacing them with the next generation TOP versions for True Outdoor Protection.
The new connectors are fully compatible and will intimate with the previous versions. They can easily be identified by the black/silver colour combination, the previous version was black/yellow.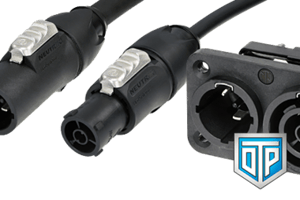 Neutrik have enhanced the pre-existing powerCON TRUE1 range to ensure true outdoor protection and to fulfil NEMA 250 and UL50 requirements. The new features allow for true protection in any environment according to UL50E/enclosure type 4 and IP65 IEC standard
Cable connectors NAC3FX-W-TOP / NAC3MX-W-TOP
These cable connectors are hardier, upgraded versions to their predecessors NAC3FX-W and NAC3MX-W, featuring new materials, an updated latch design and improved housing fixation.
Applicance connectors NAC3MPX*, FPX*, PX-TOP
The new range covers all uses in the field, including in/out combination, connectors without insulation divider and connectors with screw terminations. (Chassis connectors must have rubber sealing covers SCNAC-PX / SCNAC-FPX / SCNAC-MPX to achieve TOP outdoor protection level.
As stock of the original series is sold out, we will switch over to supplying the new series. All the new item codes are in the latest price list, please contact your account manager if your list does not include these items.
Listed below is a chart showing the old and new item codes for your reference:
| | |
| --- | --- |
| CABLE CONNECTORS | |
| Original | New |
| powerCON TRUE1 | powerCON TRUE1 TOP |
| NU-NAC3FX-W | |
| NU-NAC3MX-W | |
| | |
| --- | --- |
| CHASSIS CONNECTORS | |
| Original | New |
| powerCON TRUE1 | powerCON TRUE1 TOP |
| NU-NAC3FPX | |
| NU-NAC3MPX | |
| NU-NAC3PX | |
| NU-NAC3FPX-ST | |