Home broadcasting is essential at the moment with COVID-19. Every once in a while, when you hear a podcast, radio interview or press conference where the background echo or the reverberate field is so prevalent, it is almost impossible to hear what is being said.
The problem is that the microphone is unable to discern what is 'relevant' and what is 'noise'. It simply flattens out the audio and sends it out the airwaves. Broadcasters are well aware of the problem – and have been treating their studios with acoustic panels for nearly 100 years. By eliminating the 'sound of the room', the message being transmitted is clear and intelligibility increases tenfold. The same logic applies when podcasting from home, the office or a remote location. In order to transmit a clear message, you must remove the ambient noise.
---
Here is a selection of our best products to help you take your home studio experience to the next level.
The Broadway London 8 room kit is designed for rooms up to 100 ft2 (9m2), or can be combined with other products to treat larger spaces. Ideally suited for home theaters and studios, these easy to use kits are an affordable way to start with acoustic treatment.
The London 8 contains select Broadway panels that tackle problems affecting any room, such as primary reflections, flutter echo, and standing waves. In addition to acoustic panels, each London 8 room kit includes the corresponding mounting hardware and instructions for easy installation.
Cumulus (particularly good in voice range)

The Cumulus is a high-performance tri-corner bass trap that is designed to seamlessly integrate into most rooms without interfering with the natural room décor.
Given the choice, acousticians will always employ corners for acoustic sound control. This is primarily due to the way sound propagates inside a room, whereby the walls and ceiling act as waveguides that drive sound to the corners where it gathers. The Cumulus nestles high, up into the tri-corner where the walls and ceiling intersect for maximum efficiency.
The Primacoustic VoxGuard is a portable acoustic screen designed to reduce the ambient noise around a microphone when recording. This helps to eliminate excess echo and reverb, allowing the engineer to reintroduce the desired effects during mixing or post-production.
FlexiBooth

The FlexiBooth is a full size 24″ x 48″ (609 x 1219 x 101mm) wall-mounted acoustic cupboard that opens up to surround the vocal talent and create a dry 'voice-over' zone. The innovative design separates and attenuates room ambiance from the voice recording, which then allows the engineer to add echo or reverb and equalize the voice to best suit the performance in post production.
Our team's pick for different solutions
VoxGuard VU
---
Pro podcast for small rooms
1 x London 8
1 x Cumulus (pair)
---
Pro Podcast medium sized room
1 x London 10
1 x Cumulus (pair)
VoxGuard VU
---
Broadcast Studio for home TV broadcast
London 12, small to medium sized room.
---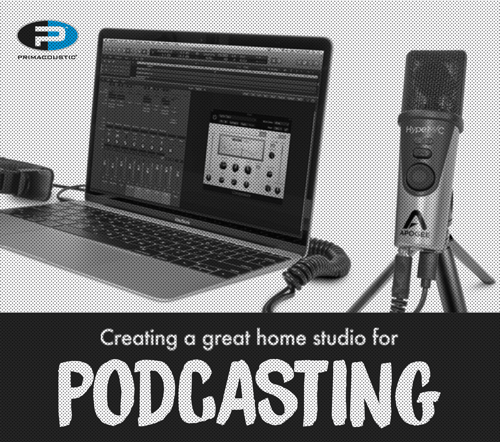 To locate a Primacoustic dealer click here.
To speak to someone from our friendly Primacoustic team, click here.