DALI ALTECO C-1 is truly a 'Jack of all trades', but also master to all. The wedge shaped ALTECO C-1 is a perfect fit for several difficult audio situations, and the dual sound modes helps it adjust to even more.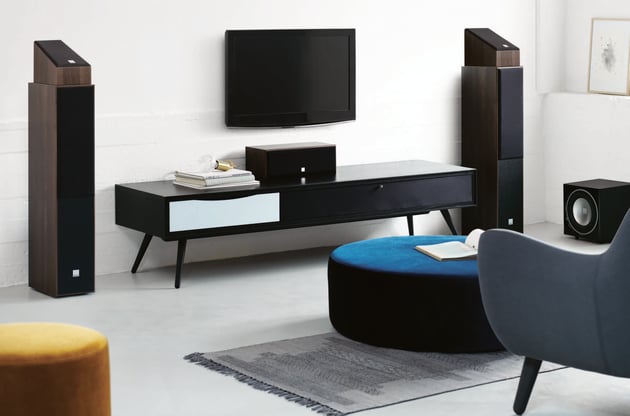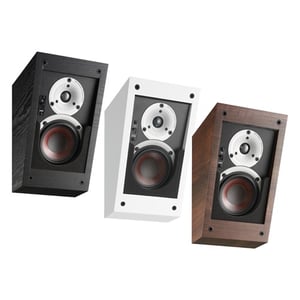 Movies with a Dolby Atmos, DTS:X or Auro-3D sound track are becoming more and more the standard. To enjoy the extra elevated audio information extra speakers in or around the ceiling are required. The ALTECO C-1 offers the user two options to deliver the height information in a surround setup.
There are two options for speaker placement that can be used with the ALTECO C-1.
Option one is to place on top of the front speakers, and/or the rear speakers, firing up onto the ceiling, so they generate the elevated sound stage by reflecting the audio off the ceiling area.
Using this method, the audio signal is beamed towards the ceiling at a 21-degree angle, and due to the recessed front baffle and the foam padding around the woofer, audio leakage directly towards the listening position is minimised.
This allows the height information to reflect off the ceiling and reach the listener without being mixed with potential audio information directly from the ALTECO C-1, delivering a very believable elevated sound stage.
Option two is to mount high on the wall right below the ceiling, by doing so the angle of the ALTECO C-1 ensures that the audio is delivered towards the listening position to form the optimum elevated sound stage. The recessed front baffle and the foam padding ensure that the audio is delivered directly at the listener, optimising the position effect of the elevated soundscape.
To locate a DALI dealer click here.
To speak to someone from our friendly DALI team, click here.