Infocomm were host to a number of exciting product launches this year; including Radial's new Dante enabled DI-Boxes and Luxeport's all-new charging and holding solution. However, none were more expansive than Digital Projection's announcement of a total of four new projectors across three of their ranges and the impressive innovation announcements of the IP60-rated 100% sealed optics and its proprietary ColorBoost and Red Laser technology.
IP60-rated 100% sealed optics system is completely sealed from the laser light source up to the lens to ensure light output and colour performance will not be degraded due to the ingress of dust. This also means that the projector has no filter, eliminating the maintenance of cleaning or replacing dusty or damaged filters.
ColorBoost and Red Laser Technologies are a fascinating advancement for Digital Projection, bringing the most realistic and balanced colour saturation to the 1-Chip DLP projectors. Intelligent processing brings the colour performance ever closer to that of a 3-Chip DLP projector. The Red Lasers, together with a specifically designed colour wheel, allow projectors with enabled technology to display more vivid, saturated and life-like images than ever before seen on single-chip DLP projectors.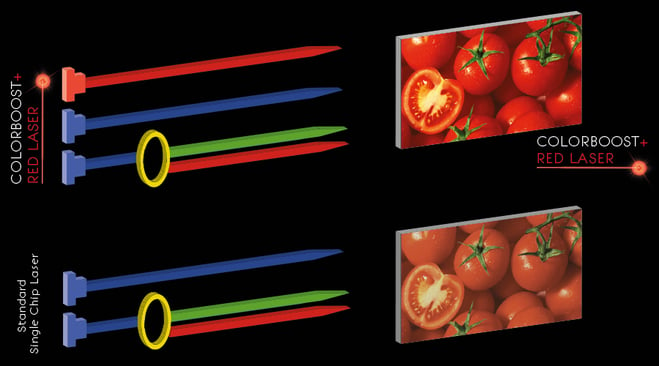 Also announced was the arrival of the brightest ever 3-Chip DLP laser phosphor projector: the TITAN Laser 37,000, providing absolute excellence for large-venue commercial projection with 37,000 Lumens (WUXGA) or 33000 Lumens (4K-UHD) from a relatively compact chassis. Taking advantage of the most current technology for connectivity and 100% sealed optics technology, DP also offers an optional lens adaptor allowing users a variety of non-Digital Projection lenses to be used with the TITAN.
To top it all off, Digital Projection also brought the on-stand launch of the the M-Vision Laser 21000, E-Vision Laser 13000 and E-Vision Laser 11000 4K-UHD, completing the extensive single-chip projector range with the added benefit of the IP60-rated sealed optics and the proprietary ColorBoost + Red Laser technology.
To locate a Digital Projection dealer click here.
To speak to someone from our friendly Digital Projection team, click here.