Installers seeking to create large, immersive digital displays in retail, entertainment venues and places of worship, can benefit from the complete range of commercial laser projectors from Digital Projection.
INSIGHT 4K HFR 360 Multi-View 3D projector,
Digital Projection's revolutionary, new INSIGHT 4K HFR 360 Multi-View 3D projector, allows installers and content creators to create a shared, collaborative and interactive experience with users.
Multi-View 3D projection is made possible by ultra-fast frame rates and high resolution; the idea being that a single projector will accommodate multiple viewers, each being tracked and each having a view of the image that remains appropriate to their changing position. Users can see and interact with each other in a truly shared collaborative manner, which was previously impossible.
The possibilities for using this technology are endless. Real-time and collaborative visualisation applications, virtual rides in theme parks, and museums are all predestined applications for this innovative technology. A virtual tour of an ancient building or a lifelike and shared experience of an invaluable object is now possible. Thanks to a personalised, pin-sharp view for each user, they can follow the explanations of the guide from their own perspectives.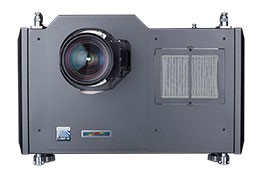 INSIGHT Laser 8K projector
As the world's first commercially available DLP laser 8K projector, the INSIGHT Laser 8K projector is a class of its own when it comes to performance. Unlike other projectors that might up-res a 4K image, the INSIGHT 8K Laser is the only projector in the world that can take an 8K source and display all 33 million pixels with Digital Projection's world-renowned image quality.
Providing an ultra-high 8K resolution (7680 X 4320) displaying 33-million pixels through 36,000 lumens of solid-state laser-phosphor illumination, Digital Projection's latest flagship projector is the ultimate solution for the most elaborate medical, scientific, immersive visualisation and large-venue applications.
The projector features DLP technology incorporating 3x 1.38" DarkChip™ DMD™ chips and Digital Projection's ColorMax™ technology to ensure superb colour accuracy and black levels. These are vital imaging characteristics when matching projectors in tiled or blended applications.
From simulation and visualisation projects requiring unparalleled resolution, to elite entertainment venues that demand mesmerising experiences through large-scale imagery, the upgraded INSIGHT Laser 8K raises the industry performance bar once more. As can be expected from Digital Projection, the INSIGHT Laser 8K uses a cutting-edge laser light source, so long-term image stability is second to none and maintenance costs are virtually non-existent.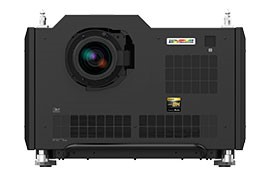 TITAN Laser 33000 (4K-UHD)
Digital Projection's TITAN Laser 33000 (4K-UHD) is able to produce 33,000 lumens from a relatively compact chassis, making it the ideal projector for large-venue applications where bright, pin sharp images are required.
This class-leading 3-Chip DLP projector utilises the very latest in connectivity, including DisplayPort, HDMI 2.0 and HDBaseT. The advanced electronics also bring HDR processing to the large venue class of projectors, and features such as Constant Brightness Control and DMX Art-Net compatibility make it the ideal solution for high profile events and fixed installations. The TITAN Laser 33000 comes with features such as Non-linear Warp, Geometry Correction, Edge Blending, Picture in Picture. This feature-packed projector includes a five-year warranty, giving the user complete peace of mind when it is installed in mission critical applications.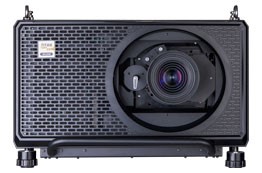 M-Vision Laser 21000 WU
Digital Projection's M-Vision Laser 21000 projector features 21,000 lumens output and a 10,000:1 contrast ratio, which brings budget-sensitive applications a large-screen imaging solution, and near 3-Chip performance at a 1-Chip price point. The lamp-free, laser-phosphor projector is charged with ColorBoost and Red Laser technology to provide the most realistic and saturated colours at previously unimaginable luminance levels.
Venues needing a powerful, yet budget-conscious large-format imagery solution without sacrificing on colour accuracy, as well as those contending with ambient light, will directly benefit from the M-Vision 21,000's light output, contrast ratio and colourimetry. Its DisplayPort input accepts frame rates up to 60Hz, while HDMI 1.4b is perfect for Side-by-Side, Frame Packed and Top/Bottom 3D formats. Motorised shift, zoom and focus across the whole lens range offers extra flexibility and ease of setup.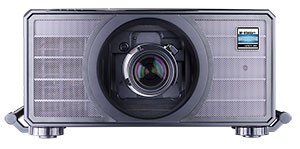 E-Vision Laser 13000 WU
The E-Vision Laser 13000 WU has been updated with all-new ColorBoost and Red Laser technology as well as 100 per cent sealed optics. Borrowing advanced graphics processing from Digital Projection's flagship 3-Chip projectors, it comes as standard with HDMI 1.4b, Display Port and HDBaseT connectivity, while accepting both commercial and domestic 3D signals.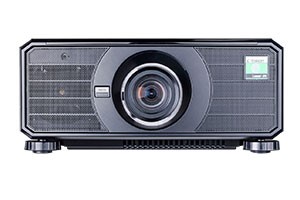 To locate a Digital Projection dealer click here.
To speak to someone from our friendly Digital Projection team, click here.