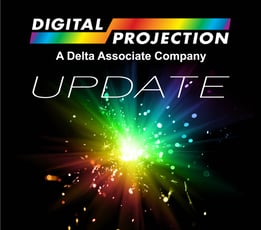 Although the highly anticipated and soon to be launched Satellite Modular Laser System has been getting headlines all over the world, Digital Projection, the Emmy Award winning manufacturer of the world's most advanced technology in professional projection products has also been busy releasing some more innovative integrated projectors to meet the requirements of our customers and theirs.
E-Vision Laser 5100 and 5900.
A favourite among our customers, the E-Vision Laser 5000, has been providing a cost-effective, bright, reliable and compact integrated 5,000 ANSI lumens through a convenient 1.15 to 1.90 zoom lens, but this model will now also be available with an ultra-short-throw 0.5:1 fixed lens. The E-Vision Laser 5100 will offer 5,100 ANSI lumens, and project with a fixed 60% vertical offset allowing it to sit on a table and project up onto a wall. The 0.5:1 lens means that at only 1m from the screen, you can have a 2m image width. 1.5m means a 3m wide image.
The E-Vision Laser 5900 is the same configuration as our E-Vision Laser 5000, but with a much brighter 5,900 ANSI lumen light output for bright, sharp images even with moderate levels of ambient light. This projector also comes equipped with the standard fixed 1.15 to 1.90 zoom lens.
E-Vision Laser 9000
Rounding up the new releases in our entry level projectors is the E-Vision Laser 9000. This projector features the same optics and lens options as the E-Vision Laser 6500MKII, including the fee 1.54 to 1.93:1 lens. Optional lenses also available for this projector include throws as short as 0.77:1 way up to 5:1. Amber has recently sold a number of these units into installations in Queensland and the Northern Territory, and our customers have been ecstatic with the brightness, and incredible colour performance of these units that offer incredible value for money.
New Lens Options for the Titan
Our trusty 37,000 Lumen workhorse, the Digital Projection Titan Laser projector now has another three lenses to add to the already wide range of options that now give you a zoom range from an ultra short throw 0.37:1 way up to 10.36:1. The new UST 0.37:1 fixed and 0.56 to 0.85:1 zoom lenses are offered in a right angle configuration. When you're in a tight spot, this is the perfect way to get that extra throw distance without sacrificing image quality. Other lens options for the Titan include the new low cost 0.67:1 fixed lens, 0.8 to 1.16:1 zoom, 1.12:1 fixed, 1.16 to 1.49:1 zoom, 1.39 to 1.87:1 zoom, 2.56 to 4.16:1 zoom, 4.16 ro 6.96:1 zoom and a massive 6.92 to 10.36:1 zoom lens.
Availability
E-Vision Laser 5100 available in July 2020
E-Vision Laser 5900 available in August 2020
E-Vision Laser 9000 Now Shipping!
New Titan Lenses available in June 2020
To locate a Digital Projection dealer click here.
To speak to someone from our Digital Projection team, click here.