Scottish rock band Simple Minds' Front of House engineer Olivier (Gégé') Gérard has completely re-worked his live microphone list for the 47-date Acoustic Live tour of the UK and Europe, capturing the acoustic essence of these concerts using DPA Microphones to amplify percussion and backing vocals.
At the heart of the new set-up are a selection of DPA d:screet™ Miniature, d:dicate™ Recording, d:facto™ Vocal and d:vote™ Instrument microphones, each chosen for their audio quality and natural, transparent sound.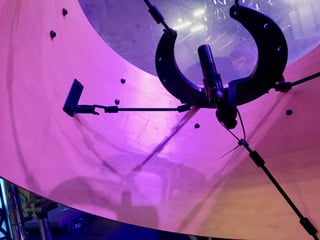 "I've been working with Simple Minds since 2012, but this tour is different because the band is playing in an acoustic style," Gégé explains. "They have worked with the concept and have delivered new life into the songs included on Acoustic, their most recent album. It's a new energy and a new experience through songs that were worldwide hits when they were originally released. Therefore, from a live point of view, it is quite a challenge."
The percussion line up now includes five d:vote™ 4099 Instrument Microphones on toms, hi-hat, snare bottom, chimes and bells; a d:screet™ 4061 Miniature Omnidirectional Microphone on the Cajón; a d:dicate™ 2011A Twin Diaphragm Cardioid Microphone on the bass drum and six d:dicate™ 2011C Compact Cardioid Microphones on the two snares, underheads and gong.
"The sound is very transparent and natural," Gégé says, "and the dynamic is also really amazing as the sound does not disappear if the musician is taking it down. Cherisse (Osei on percussion, who has also worked with Mika, Bryan Ferry and Paloma Faith) uses a bass drum with a punch that is higher than you would expect but the d:dicate™ 2011A really renders it at its best. I also use a Kelly SHU kick drum microphone mounting system on the drum and the gong, and this really takes the sound to another level."
Gégé is also using four d:facto™ Vocal Microphones – two wireless and two wired – for backing and guest vocalists. These include Sarah Brown, who has previously worked as a backing singer for Stevie Wonder, Quincy Jones, George Michael and Simply Red.
"The d:facto™ is absolutely great for her because she has very wide range and diversity in her sound," he explains. "Most microphones would be great when she is giving it, but I would have had to jump on the Highpass when she became smoother and warmer. With the d:facto™, the sound stands in the mix as naturally as the rest of the DPAs."
Summing up his experience with DPA, Gégé says: "I am more than happy with the quality and the results. The d:dicate™ 2011C Microphone is amazing - the best snare mic ever, even for loud bands - while the 2011A on the kick drum is great because of its natural sound.
Having DPA for the whole percussion set and the vocals helps with the legendary spill because it is no longer a problem leaving some channels open."