d:facto™, d:screet™ and d:vote™ Microphones deliver natural, transparent sound
As audio consultant and sound mixer for the popular PBS series, Live From Lincoln Center, Paul Bevan is given the enviable task of capturing the amazing live audio of some of the world's greatest performing artists in concert. As a specialist in mixing and amplifying orchestras in large venues, Bevan understands the need to use microphones that capture the natural sound of the instruments. In order to achieve that sound, he relies on a selection of DPA Microphones for his amplification needs.
The March 2017 Live from Lincoln Center project was entitled Joshua Bell: Seasons of Cuba, with the concert taped at the world-renowned performance arts complex Rose Hall and featured Grammy® Award–winning violinist, Joshua Bell, Dave Matthews, The Chamber Orchestra of Havana along with several Cuban musicians and singers.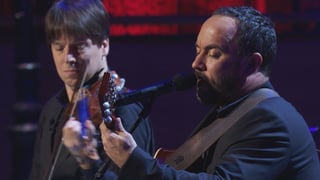 "All the DPA mics I have used have such wonderful clarity that I do not have to do any unnatural boosting of high end, which can lead to harshness," adds Bevan. "I will use DPA mics as a first choice on any upcoming orchestra projects – either for TV tapings or for amplified performances in large venues."
The other essential element is that the microphones must be as 'invisible' as possible, as to not detract from the beautiful aesthetics of the show. "DPA gives me microphones that sound amazing in the hall, do not pick up a lot of the PA and are conducive to a great look on camera," adds Bevan. "I have used DPA microphones in many situations for several years and they are wonderful. I am happy to once again be able to use them for this year's Live From Lincoln Center concert series."
Miking a $4million instrument
A major issue he faced this year was the inability to physically attach anything to Grammy®-Award Winning Musician Joshua Bell's violin.
"Even the no-impact DPA rubber mounts that I have used with many other artists were not allowed," says Bevan. "This is a four-million-dollar instrument and cannot be touched by anything except Joshua's fingers. I put a DPA d:screet™ SC4061 Miniature Omnidirectional Microphone on Joshua's lapel on the opposite side of the violin, which gave a lovely warm sound from the violin. Joshua was also the evening's M.C. and the microphone on his lapel picked up his spoken introductions perfectly. The TV producers greatly appreciated not having to put a vocal mic in front of him."
The second performer, Cuban soprano Larisa Martinez, also had a d:screet™ SC4061 hidden inside her hairline with clips, which was invisible to the audience and cameras, but gave a beautiful natural sound, with all her wonderful dynamics. Using small Sennheiser wireless packs allowed the performers plenty of freedom of movement.
Another challenge presented was the producers' desire to have the piano lid removed, so that there were no unwanted reflections on the set. "This was an added challenge in having hidden mics, while reducing the amount of bleed from the rhythm section and orchestra into the piano mics," Bevan said. "I achieved this with a couple of d:vote™ 4099P Instrument Microphones for Piano on magnetic mounts. Their excellent supercardioid, off-axis rejection kept bleed to a minimum, while capturing a very natural piano sound. Finally, I rounded out the instruments by using a d:vote™ 4099S Instrument Microphone for Saxophone."
Bevan had also been wanting to try DPA's d:facto™ MMC4018V Supercardioid Microphone Capsule for Vocal for some time and the perfect opportunity presented itself when he needed to capture vocals for recording artist Dave Matthews and Cuban singer-songwriter Carlos Varela, both of whom also participated in the series.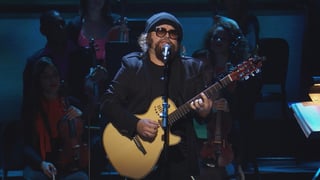 "Dave Matthews has somewhat of a 'low-mid' heavy voice and the extra clarity from the d:facto™ MMC4018V capsules helped in reducing the amount of EQ-ing I had to do to get his lyrics to be very clear over an orchestra and rhythm section," he says. "Carlos Varela sounded wonderful on this microphone too. His soulful songs were even more chilling with the wonderful air and clarity that this microphone provided."
According to Bevan, his primary challenge during the television taping is to get an uncoloured recording, while still getting a good and present level in the house mix. Unusually, the Avid ProTools recording engineer didn't have to ask Bevan to turn anything down in the house mix and was astonished by how little he heard the PA coming back into the microphones.
In all, the production used two d:screet™ SC4061s on Bell's lapel for the violin and Martinez's hairline, two d:vote™ 4099P mics for piano, one d:vote™ 4099S mic for saxophone and all the vocal mics were DPA's d:facto™ MMC4018V capsules.