TC Helicon GOXLR Mini will be available soon at Amber Technology, this intuitive all-in-one audio interface was designed for live streamers and content creators, assisting with workflow online. This small device allows various USB audio devices in Windows where you can control your app volumes one by one.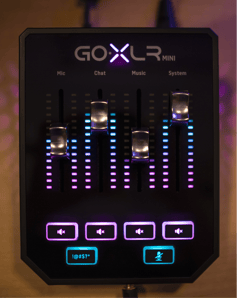 The award-winning Midas preamps are versatile and perfect for any voice and microphone. Whether you're an established creator with a multi-PC setup, or just getting started, GoXLR Mini has all the inputs and outputs to grow with you.

3 Step Setup

With GoXLR Mini, simply download the app, plug in, assign your programs, and you're ready to go! This intuitive device allows you to control your audio so you and your content sound their best.

12 Sound Cards = 1 GoXLR Mini
GoXLR Mini creates multiple USB audio devices on your computer so you can assign your most-used apps to their own faders. No more tabbing out. Turn up your game volume without increasing the volume of other programs.

Powerful and Quiet - a Perfect Preamp Combo
GoXLR Mini uses the same award-winning, ultra-low-noise Midas mic preamp as the original GoXLR so your voice sounds clean and crisp—no matter which microphone you throw at it. If you have a mic that requires a lot of gain, GoXLR Mini provides plenty of power with no activator needed, plus phantom power.

Keep it Clean
GoXLR Mini has its own manual censor and cough button so you can let it all out while keeping your content clean and appropriate for sponsors and audiences of all ages.

To locate a TC Helicon dealer click here.
To speak to someone from our friendly TC Helicon team, click here.