HDAnywhere have now released the XTND4K100TPC141 – capable of distributing 18G content up to five locations - four locations via Cat cable, providing PoE power to the receivers and one local HDMI out.
The all-new HDAnywhere XTND4K100TPC splitter uses sophisticated Tipping Point Compression (TPC) to distribute 18G content in up to five locations. It supports up to four locations via Cat cable with the included PoE powered receivers plus a local HDMI output.

This unit will provide a full 18G 4K signal up to 100m on cat cable or a 1080p signal up to 150m with the included receivers.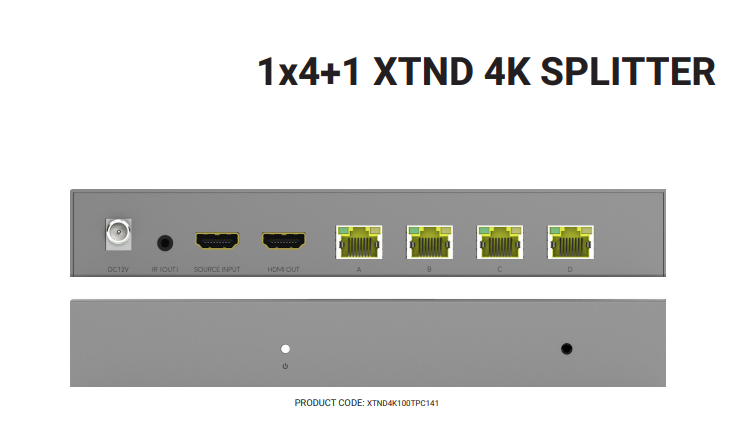 A growing number of HDMI input sources are capable of outputting Ultra HD 4K content with higher frame refresh rates for smoother motion and deeper, richer colour ranges, that push transmission data beyond the HDBase T's 9G video bandwidth ceiling, up to potentially 18G.

Tipping Point Compression as used in the HDAnywhere XTND4K100TCP141, is active on the long-range HDBaseT links, only when higher than 9G video content is detected – hence ' tipping point'.

TPC does not change video resolution, frame rate and colour depth, only colour gamut (total colour range). TPC keeps all Luminance data (Y) and only loses Chroma data, which the human eye has significantly less sensitivity.

XTND4K100TPC system features:
HDMI® 2.0 (a/b) HDCP 2.2 compliant
18Gbps data rate throughout (up to 30m)
Supports all resolutions up to and inc. Ultra HD 4K 60 4:4:4
Supports all current High Dynamic Range (HDR) formats inc. Dolby Vision®
Supports all current audio formats up to Dolby Atmos® and DTS:X®
HDMI loop port on the hub
Receivers receive power via PoE from the hub
More information:
For more information on MHUB XTND 4K splitter, click here.
To locate a HDAnywhere dealer click here.
To speak to someone from our friendly HDAnywhere team, click here.