Arriving to Australian shores, Danish audio company, DALI, has created its first range of wireless headphones using technology and decades of experience making award winning loudspeakers.
Designed and engineered in Denmark from the ground up, DALI iO-4 and DALI iO-6 are wireless hi-fi headphones developed specifically for music enthusiasts, promising extremely high-quality sound reproduction, durability and comfort.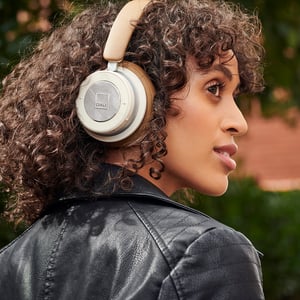 The DALI iO headphones feature the latest Bluetooth 5.0 aptX technology, considered the best and most popular choice for consumers on the move, and Clear Voice Communication (CVC) technology, which transforms the music listening experience.

The user-interface is extremely intuitive, with a multi-function button elegantly integrated into the logo plate design of the right ear cup. To support the user experience, voice prompts report the state of operation, connectivity, battery level and Active Noise Cancellation (ANC) mode (iO-6 only).

The iO-6 features ANC designed to virtually eliminate most outside noise commonly experienced in airplanes, offices and in other environments. Users can easily switch noise-cancelling functionality on or off, while Transparency Mode blends external sounds with music playing through the headphones, providing users additional safety for situations such as crossing roads with heavy traffic.

All modes can be toggled via the ANC button without disconnecting from other devices or interrupting audio.
The iO-6 has a very respectable 30-hours of battery life in this mode. However, in forgoing ANC, the iO-4 is able to double its battery life to an extensive 60-hours per charge.

The DALI iO-4 and DALI iO-6 incorporate large custom-made 50mm paper fibre diaphragm drivers with an optimised neodymium magnet system to achieve low distortion, minimal colouration and accurate dynamics. The DALI iO ear pads have been designed specifically to deliver sound with minimum bass leakage, ensuring the audio will always sound as originally intended.

Built for extended listening with a comfortable and durable design, the ear pads are made with memory foam for a soft and snug seal over the ears, ensuring perfect sound performance. The headphone ear cups rotate +/- 90 degrees to fold flat for compact storage or to hang comfortably around the neck.

For battery charging, DALI iO headphones use a USB-C connector. This also supports high quality digital audio when directly connected to a Windows or Mac OS computer. The headphones also incorporate a traditional wired analogue 3.5mm jack input to connect to in-flight entertainment systems and works when the headphones are switched off.

The iO-6 headphones include a travel case for storage and protection, and a flight adaptor for added convenience. Both models are available in two colours, Iron Black and Caramel White, offering a stylish and contemporary look for all music lovers.

Key Features

• Driver: 50mm free edge paper fibre cone
• Noise reduction: Active Noise Cancellation (iO-6 only)
• Connections: Bluetooth 5.0 AAC, aptX, aptX, HD 3.5mm Mini Jack stereo USB-C
• Functions: power ON/OFF, Bluetooth pair, release volume up/down, play/pause/skip track, Take call
• Hands-free: Clear Voice Communication (CMC)
• Battery: iO-4 - Up to 60-hours / iO-6 - Up to 30-hours
• Weight: 320g (iO-4) 325g (iO-6)

DALI Wireless Headphones iO-4 RRP $499
DALI Wireless Headphones iO-6 RRP $699
To locate a DALI dealer click here.
To speak to someone from our friendly DALI team, click here.