The impact COVID-19 has had on our performing arts industry at all levels has been devastating for all concerned. We have put together a summary of industry support contacts our colleagues may find useful.
CREW CARE
CrewCare is a membership based, democratic, not-for-profit charity, whose mission is to effect change for the better in crew welfare - personally, financially and professionally. The CrewCare board is a collective of caring, like minded volunteers, dedicated to improving the welfare of Australian technical and creative live production professionals and their families. CrewCare's mission is to effect change for the better in crew welfare - personally, financially and professionally.
CrewCare website - https://crewcare.org.au/
Amber Technology are donating the last two ENTECH Roadshow Audio Toolkits to Crew Care for an online auction to raise much needed funds. More details to follow.
SUPPORT ACT
Support Act is Australia's only charity delivering crisis relief services to artists, crew and music workers as a result of ill health, injury, a mental health problem, or some other crisis that impacts on their ability to work in music.
Please Stay Sane, and Here
You are not alone. We are all going through the same thing. Talk to your peers. Call someone that might be struggling. There is financial help available from government and banks. If you are in crisis, reach out: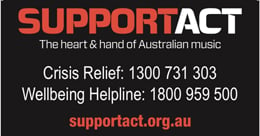 Support Act's COVID-19 Resource page can be found here.
Australian Commercial and Entertainment Technologies Association (ACETA)
On 18 March, the peak body ACETA (Australian Commercial and Entertainment Technologies Association), announced a proposal to lobby government to fund a 'get paid to train' programme for Australian entertainment industry workers.
Read the CX magazine article here.

Screen Producers Australia (SPA)
Screen Producers Australia (SPA) has released the preliminary results of its recent survey on how COVID-19 is affecting the screen industry, in an effort to present a wholistic picture of the pandemic's economic impact to Government.

Click HERE to see the release detailing the findings.
I lost my Gig

Register your losses on this website so the industry has accurate figures to lobby the government with. https://ilostmygig.net.au
The Tech Sisters
https://www.facebook.com/groups/thetechsisters

A global community of Tech sisters, who are committed to working hard and supporting others, in their own pursuit for career and personal success, doing the journey together.
Tech Checks on Facebook
https://www.facebook.com/groups/1179643328866204
A Facebook group started by Steve King is a place for everyone in the events industry to keep in check. Too many of us have been affected by loss of colleagues and mates due to depression and mental health issues. Tech checks is a place to know that we of the industry have each other's backs, even just for a short friendly word of support.
Entertainment Technology NZ (ETNZ)

Website: www.etnz.org
In the face of the ongoing evolution of COVID-19 and its impact on the Event and Entertainment Technology industry in New Zealand, ETNZ would like to find out more about how it is impacting Kiwis or Kiwi businesses, in the hopes they can use this information to support or advocate on the industry's behalf.

Please fill out the survey (NZ only) and help ETNZ in gathering information in as timely a manner as possible; feel free to share with fellow industry technicians/businesses/etc. whether or not they be members of ETNZ. Remember a Coal Membership is FREE; sign-up on our website (etnz.org) if you want to receive things like this survey directly via email as the situation progresses.

Remember as things develop in a way that keeps putting our industry at extreme risk, we will need to stand together with a unified voice to make a difference. To this effect, we need as many people as possible to answer the survey and sign up as members; make your thoughts and concerns heard.
Thanks to CX magazine for the links to some of these resources. A further extended list can be found here.