The release of the Apple iPad 10.2" iPad Gen 7 means new products from IPORT. The new Gen 7 10.2" iPad is physically larger than the Gen 6 9.7" iPad it replaces.
Which
iPort
products
work with the new 10.2" Gen 7 iPad?
IPORT LAUNCH:
With a unique combination of inductive charging and embedded magnets, LAUNCH delivers an effortless experience to mount and charge iPad on a table or wall and to quickly grab and go.
Used by the world's most admired companies for device deployments and found in some of the most prestigious homes, LAUNCH is ideal for any application anywhere dedicated iPads are installed. An all new Case has been developed for IPORT LAUNCH which suits the iPad 10.2" and the iPad 10.5"
NEW Black Cases to suit the Gen 7 10.2" + 10.5" iPads have just arrived & are now available.
New White Cases to suit the Gen 7 10.2" + 10.5" iPads will be available from mid March.
---


IPORT LUXE :
IPORT LUXE is the ultimate expression of refined aesthetics in an iPad charger and mount.
IPORT LUXE takes the IPORT removable iPad experience to the next level. With precision machined aluminium alloy that comprise minimalist-designed enclosures and stations. IPORT LUXE allows iPad to blend into high end offices and residences.
LUXE cases to suit 10.2" + 10.5" iPads.

---
IPORT SURFACE MOUNT :
IPORT SURFACE MOUNT was derived from a simple goal: Install iPad stationary on any surface, and make it look great.
The bezel enclosure is comprised of precision-machined aluminium and is minimally designed to virtually disappear around iPad, blending iPad in with any wall or solid surface.
iPad is everywhere, in business and homes. There are thousands of smart devices now that help make your life better like smart door locks, smart lighting and even digital music systems. All these devices come to life on your iPad screen where you can control them as you desire.
We believe there should be an easy way to place your iPad on a wall, making it always charged and always available. Turn your iPad into a smart touch controller with Surface Mount: the elegant frame that allows you to integrate iPad onto any surface.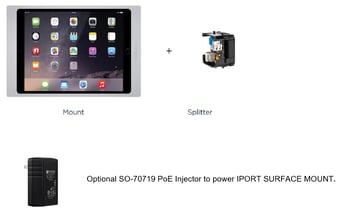 Surface Mount to Suit 10.2" + 10.5" iPads.
SO-70902 Silver Bezel + Splitter
SO-70900 Black Bezel + Splitter
SO-70904 White Bezel + Splitter
To locate a iPort dealer click here.
To speak to someone from our friendly team, click here.