Solid State Logic's (SSL) new all-analogue 2U outboard processor Fusion is designed for contemporary hybrid studio use. Incorporating five new analogue colouration tools, it combines the perfect mix of added tonal character, weight and space to your mix bus or stereo stems, with the attention-to-detail, warmth and finesse that only true analogue circuits can provide.
SSL's sonic heritage lies upon a well-respected and admired assemblage of analogue audio processing tools that are often featured in current and past generations of studio consoles; pristine mic pre's, classic Channel EQ and Dynamics, the legendary Stereo Bus Compressor, the Listen Mic Compressor, and the unique SSL summing bus. Fusion brings SSL into the next generation of outboard processing with its new group of analogue processing tools, offering exceptional tonal character and versatility. The suite builds on the processing palette for hybrid studio owners and is the perfect pairing for the SSL Stereo Bus Compressor.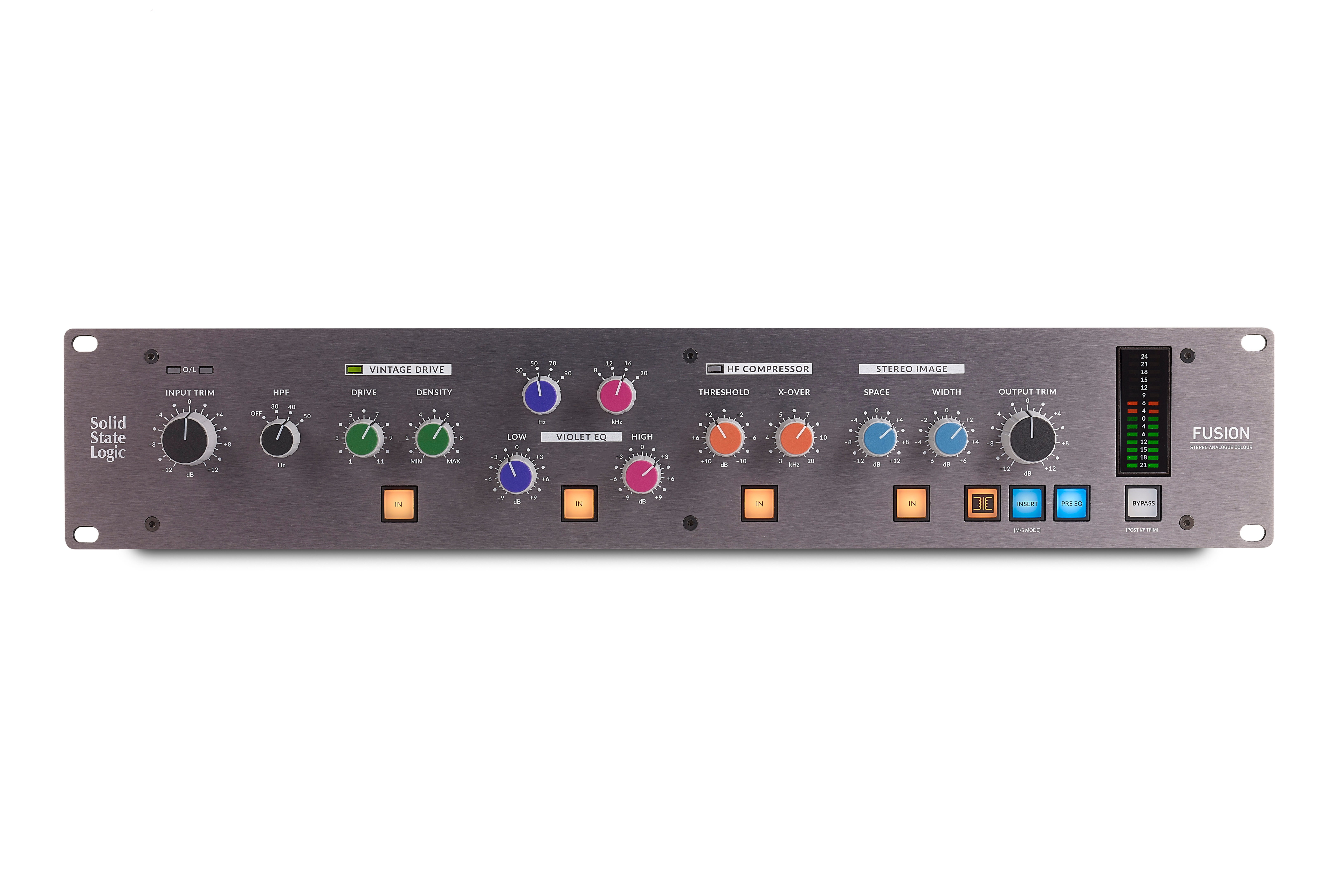 Each of Fusion's five analogue processors can be used discreetly or as a group:
Vintage Drive - is a unique non-linear harmonic enhancement circuit that brings unity and structure to a mix. Drive and Density controls work in unison to create harmonic saturation and soft compression derived from overloading an analogue circuit. It can be used lightly for gentle thickening saturation or driven hard for stronger distortion.
The SSL Violet EQ – a brand new minimum phase-shift, two-band shelving EQ. The first new SSL analogue EQ circuit in over 25 years, this new piece of equipment draws on the SSL legacy of carefully selected frequencies and response curves to create a musical and intuitive EQ designed to quickly dial in low-end weight and high-end sheen. High and Low-frequency circuits each offer four switched frequency points and +/-9dB attenuation.
A new High-Frequency Compressor offers the distinguishing sound of high-frequency rounding in the analogue realm. A compressor that effects high frequencies only, optimised for smooth and transparent harshness reduction and a tape-like high-frequency roll-off – great for taming brittle high-frequency fizz.
A new Stereo Image enhancer gives a true analogue Mid-Side circuit that manipulates the side signal, permitting widening and spatial manipulation of the stereo field.
A switched, custom-designed SSL Transformer circuit presents refined low-frequency saturation, alongside a high-frequency phase-shift. The outcome is a thickening of the low-end and an added sparkle to the high-end at the same time.
Aside from SSL's renowned expertise in design, they're also known for ingenious connectivity and features that streamline and speed up production workflow. As an all-new outboard processor, Fusion works well as a group of workflow enhancing features including +/-12dB Input and Output Trim controls, an Input overload LED, large peak-hold metering, a front-end 3rd order High pass filter with three selectable cut off frequencies, and tri-colour status indicators for the Vintage Drive and HF Comp sections. A set of XLR connections are used as both a Stereo Insert for stereo mix bus processing or switched to function as a Mid-Side (MS) circuit enabling separate compressors or EQ to be applied to the middle (centre) and sides of a stereo signal. In Stereo Insert mode the insert point can be switched to pre-Violet EQ, when in MS mode the insert can be switched to pre-Stereo Image controls. Input and Output connections are via XLR.
To locate a SSL dealer click here.
To speak to someone from our friendly SSL team, click here.