Earlier in November our Integrated Solutions team went to Melbourne to showcase the latest products in Newline's portfolio of interactive touchscreen displays, the VN, X and all-new RS models. Newline Interactive is one of the world's largest and most innovative manufacturers of interactive flat panel displays.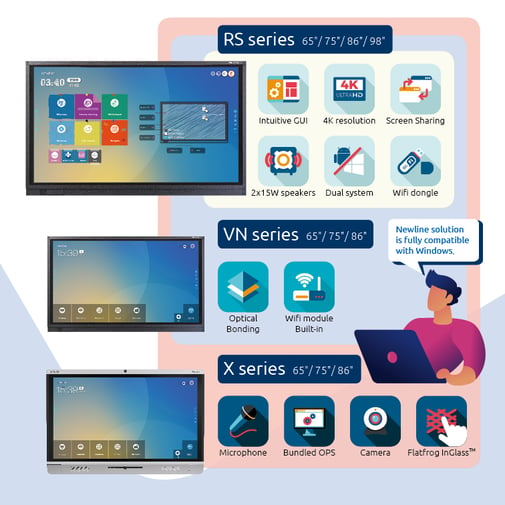 X Series: Newline's full-featured Unified Communications device, armed with cameras, microphone array, speakers, Windows 10 PC and unique In-Glass touch sensor technology
VN Series: powerful interactive flat panel for corporate board rooms, meeting rooms, huddle rooms and collaboration spaces; featuring Newline's Optical Bonding technology for enhanced image quality
RS Series: refined design and functionality optimised for school and tertiary education applications, focusing on ease of use and value for money
The demos conducted by Brand Manager Daniel McDonald gave people the opportunity to truly experience Newline technology. Daniel took them through all the advantages of these amazing systems in company, school or university installation projects.

With years of experience Newline delivers meaningful solutions that adapt seamlessly to the modern workspace, made for the way teams work today.

Discover how Newline can meet your collaborative needs and enhance productivity.
To speak to someone from our friendly team, click here.

Topics: engaging software, productive learning tool, effective communication, flexible learning, interactive learning, newline interactive display