Discover the interactive Ecosystem built for the way that you work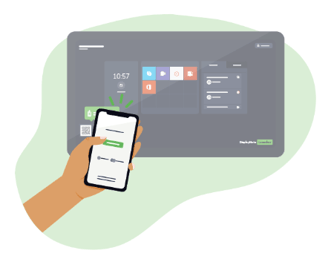 Newline has developed an interactive ecosystem to help you get the most out of your Newline interactive display. Built for the way teams work today, it's fully compatible with smartphones, laptops and tablets.

The Newline interactive ecosystem allows you to connect quickly and easily for collaboration that is effective, productive and flexible. Cast screens, broadcast content to remote users, pull up your meetings by walking up to the display, co-edit documents in real-time with video-chat, and centrally manage all your Newline displays. With Newline at the heart of every workplace or classroom, all your meetings, lessons, conference calls and collaboration sessions are brought to a whole new level.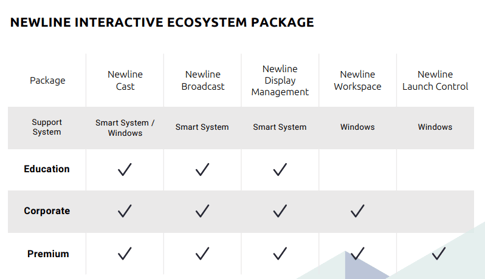 THE MOST FLEXIBLE COLLABORATION SOLUTIONS
Complete corporate and education solutions


Intuitive and easy to use for everyone


Personalised meeting and coworking spaces


Developed for every type of workspace


Supports personal devices and all OS
Newline Cast - Easily share your screen from any device
From any device with a single click. It works with all modern laptops, tablets, phones and support for your browser. Enjoy two-way collaboration as you control and annotate from the display or from your own device.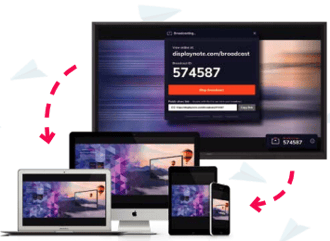 Newline Broadcast - Share content to audiences of any size
Share your screen in real-time from your Newline display to any participant connected. Easily invite up to 200 participants to connect their own device from the meeting room, classroom, lecture theatre or any other place in the world with a network connection.

Newline Display Management - Centrally manage all your interactive displays
Easily manage and deploy apps, configure display settings, use digital signage features or broadcast emergency messages to all Newline interactive displays, without ever having to leave your desk.



Newline Workspace - Maximise productivity with multisite collaboration
Collaborate with teams in different locations with video-chat, whiteboarding and document editing. Bring Word, Excel, PowerPoint or PDF files and co-edit in real-time. Make it easy for your teams to get work done together, no matter where they are.

Newline Launch control - Turn the display into a more personal device
Pull up your calendar, Skype meetings and collaboration apps with a single touch or by simply walking up to the display. Get instant access to your content on the big screen without manually inputting your credentials. Disconnect easily and securely when you leave the room.


To speak to someone from our friendly team, click here.