Wyrestorm have released a new model in its NetworkHD line – the NHD-300-TX, which is a powerful, highly configurable transmitter.
The NHD-300-TX is truly an IP masterpiece, supporting a multitude of connectivity and control options.
The NHD-300-TX is a streaming powerhouse. WyreStorm has designed it with high levels of flexibility and as user-friendly as possible, with many different adjustable parameters to suit a wide selection of decoding applications.
The NHD-300-TX is an open standards encoder offering HDMI source video streaming that can be configured to a range of transport standards for open compatibility with H.264 stream players, recorders and video servers. Featuring multiple output channel encoding and adjustable stream properties, the 300 Series is the ideal AV over IP solution for flexible video stream integrations.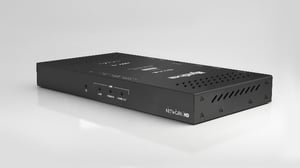 It is compatible with many online live streaming devices, such as YouTube Live, Facebook Live, VLC, and Twitch. The NHD-300-TX also supports many transport protocols, including: HTTP, RTSP, RTP, TCP, RTMP, HLS, UDP, Multicast and Unicast streaming. This transmitter also features configurable EDID up to 1080p video resolution and output scaling.



Key Features
Supports video content up to 1920x1080p @60Hz 8bit
HDMI loop out for connection to a local monitor or secondary distribution system
5 mm input for secondary audio encoding separate to HDMI audio
11af PoE compatibility allows encoder to power from a network switch while retaining 12v DC power for flexible power options
Low bandwidth H.264 network transmission supports configurable encoding rates between 16Kb/s~12Mb/s
Flexible audio encoding allows selectable options between MP3 or AAC formats at up to 384Kb/s
Supports audio sampling rates of 32Khz, 44.1Khz and 48Khz
Feature rich and intuitive Web UI allowing several customisation options and configurations
Native compatibility with popular platforms such as YouTube, Facebook, Wowza and many more
Uses standard network streaming protocols such as HTTP, RTSP, RTMP, UDP, Multicast and Unicast
Small form factor design that is compatible with NetworkHD series rack mounts
Multiple simultaneous encoded outputs using different stream formats

To locate a WyreStorm dealer click here.
To speak to someone from our friendly WyreStorm team, click here.