The world leader in wireless control solutions – One For All – has released its latest innovation.
The new Wireless HDMI Sender enables smooth signal streaming from any AV device with an HDMI output to a remote television – even if it's in another room.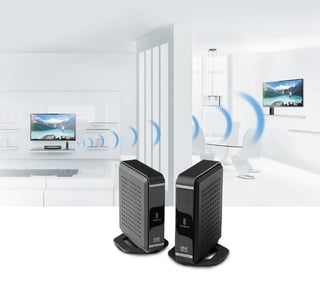 Providing a stable and uncompressed Full HD transmission, the One For All Wireless HDMI Sender provides an uncompromised media experience. Regardless of where the screen is located within the home, the signal will penetrates most floors or walls if the television is within 10 metres, and has a 30 metre line of unobstructed sight.
Using the 5GHz band, the Wireless HDMI Sender transmits data without interference or delay for streamed audio and video in Full HD on a second TV.
Lightweight and compact the system is easy to install and includes a transmitter and receiver unit that pair the source TV with the second one. The wireless design ensures discreet, clutter-free placement beside or behind the television is possible, and the set is also capable of connecting all your HDMI enabled devices including DVD/Blu-ray player, game console and home cinema projector.
The One For All Wireless HDMI Sender retails for $599 rrp, available in Harvey Norman and JB Hifi.