A recent firmware update allows both Onkyo and Integra users to seamlessly stream music using the SONOS Home Sound System with a selected range of products manufactured from 2016 onwards. Custom AV installers can now offer seamless integration with new or existing SONOS Home Sound Systems using Integra products.
Following a firmware update, a selection of Onkyo and Integra products allows users to seamlessly stream music using the SONOS Home Sound System through SONOS Connect, creating the ultimate multi-room audio set-up.
The Works with SONOS® program certifies that Onkyo and Integra products meet SONOS standards for a stress-free user experience, and that the product will connect with the SONOS Home Sound System.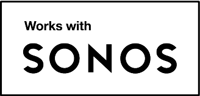 With the addition of a SONOS Connect, Onkyo and Integra receivers carrying Works with SONOS® certification can be part of an existing SONOS Home Sound System or become the start of a new one. After a simple set-up procedure, the receivers tie securely into SONOS, instantly waking, changing inputs, and playing at the desired volume using the familiar SONOS app interface.
Once the compatible receiver is connected to the SONOS Connect, users are able to send any audio source on their SONOS app to the receiver. The receiver can be grouped with other SONOS devices on the network or be enjoyed independently, anywhere around the home.
Onkyo and Integra's integration with the Works with SONOS® program allows users to set-up a whole home solution, while enhancing the magical SONOS experience through a non-SONOS audio product.
Compatible Onkyo models already available
TX-8270, TX-NR686, TX-RZ1100, TX-RZ3100, PR-RZ5100
Onkyo 2018 models to be released soon
TX-RZ730, TX-RZ830
Compatible Integra models already available
DRC-R1, DRC-R1.1, DRX-7, DRX-7.1, DRX-R1, DRX-R1.1
2018 Integra models to be released soon
DRX-3.2, DRX-4.2, DRX-5.2
To locate an Onkyo or Integra dealer click here.
To speak to someone from our friendly team, click here.