ENTECH Roadshow is just around the corner and with the recent launch of Solid State Logic's L100, it's no better time to see the console firsthand. With a smaller, compact frame, the L100 offers the perfect solution for users who favour premium sonic performance in tight space installations, for sub-mix positions or corporate production.
SSL Live consoles are appreciated among sound engineers for international music tours, festivals, houses of worship and in prestigious installations across the globe. They've built a strong status for superior sound quality, efficient workflow, complete network-ready connectivity and stalwart reliability. The new edition has all the same features as their predecessors, like high headroom, a low latency SSL Tempest Audio Engine, guaranteed showfile compatibility across the range, and identical I/O options, including SSL Super Analogue stageboxes (over MADI or Dante), local analogue and digital I/O, and Blacklight.
The L100 is a world-leader for it's compact, 12+2 fader configuration frame, while still having the same fast access layer / bank switching and Super-Q technology to guarantee that channels, groups, aux's, VCAs, or masters are all within reach. Engineers who need more faders can add the new Remote Tile (see previous blog post) and more screen space can be added via a separate touchscreen and tablet control.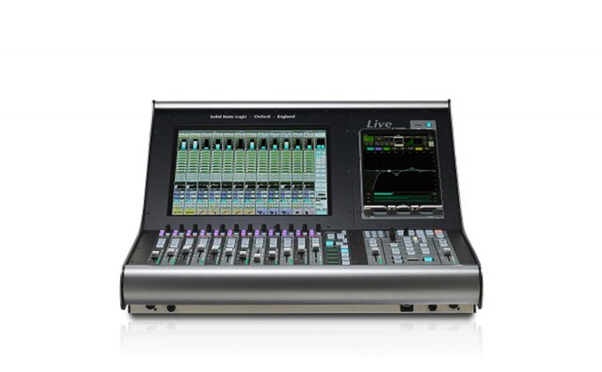 The 17" multi-gesture touchscreen allows access to every function within the console and is connected to Quick Control in the central fader tile to provide intuitive, immediate, practical hardware control. The cohesively integrated tablet stand combines with the newly released version of SSL's TaCo tablet control application to offer an additional control panel for channel or Effects Rack processing. The Master Tile also provides Mute Group, Solo/Talkback, Assignable keys and Automation controls.
The 96 fully-processed paths have more than enough capacity for small to medium live productions and its flexible build allows for it to be configured with 64 input channels, 36 aux sends, 12 stem groups, 12 VCA's and four masters. An extra 4 x 32 input, 12-ouput matrix is also available.
Every L100 path has a whole range of channel processing configurable in any order, including EQ, dynamics, tube emulation, delay, all-pass filter, and two insert points. The console's internal FX rack provides everything else, with a large suite of SSL FX, for up to 24 instances.
The SSL SOLSA PC app can be used in both on and offline environments and the SSL Live TaCo (Tablet Control) mix app provides wireless control of SSL Live consoles from iPad and Android devices.
ENTECH will be visiting all major cities in March:
Brisbane: 5 March

Sydney: 7 March

Melbourne: 12 March

Adelaide: 14 March

Perth: 19 March
To register now, click here.
Or, to speak to someone from our team, click here.