Sonance Outdoor Audio systems help you create outdoor experiences that turn any setting into something memorable.
Moving everything outdoors has quickly become the new normal. Take the audio outside.
SONANCE OUTDOOR AUDIO SOLUTIONS


Omni-6T
360 Degrees of excellence
The Omni-6T is an omnidirectional 70V/100V/8 Ohm loudspeaker designed to deliver full range audio with 360 degrees of coverage. Ideal for gardens, around pools, outdoor dining areas, Commercial and Residential spaces. The fully weatherproof IP66 textured brown enclosure is designed to blend into ground cover, garden beds and foliage.
4 x 32mm wide band drivers with best in class midrange and treble 5" high excursion woofer
Textured brown sturdy enclosure designed to blend into the landscape
IP66 waterproof construction:

Design to handle extremes temperature, moisture and salt air.

Sonance Laminated Core Technology transformer ( SLCT ) providing full fidelity performance in 70V / 100V operation
Can be buried up to 200mm deep, leaving only 168mm above ground.
Frequency response +/- 3dB 60Hz – 20kHz.
Rated Impedance 8 Ohm nominal , 6 Ohm minimum.
Transformer taps 80W,40W,20W ( 10W @ 70V )
Sensitivity 88dB
Overall dimensions ( H x Dia ) 368mm x 305mm
Weight 6.62 Kg.

---
VP Extreme – Flush mount
Sonance Visual Performance Extreme speakers is a range of IP66 rated in-wall and in-ceiling speakers built to withstand extreme temperatures from -340C to +790C and conform to Military Standard 810G for humidity, salt spray, temperature and UV. A perfect solution for discreet outdoor audio in a home, commercial space or yachts.
Extreme speakers feature Sonance's XPC Grille Retention Technology® ensuring the grille is held securely in place even during high pressure washing. They also include the Rotolock® mounting system with two-piece toggle feet for simple and fast installation.
Simon Wehr, Director of Commercial Products with Sonance, gives a 2min Tech talk on Sonance Extreme
---

Mariner - Surface mount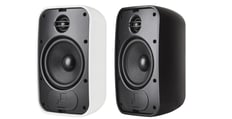 The Sonance Mariner Outdoor speakers offers 14 models in 3 sizes, 2 performance levels and either Black or White finishes. Great sounding and IP66 fully weatherproof to provide years of trouble-free service.
The FastMount bracket ensures a clean sleek look combined with easy and safe installation, with a simple push and lock to mount the speaker into place. No threads or extra hardware required. Once mounted there is up to 180 degrees of pivot to direct the sound where you want it and then lock the speaker into place. They will not droop over time.
---
Rocks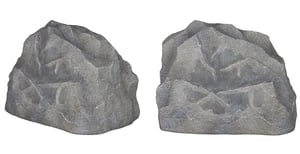 Sonance rock speakers utilize a durable weather-resistant construction that is built to withstand the harshest outdoor environments. Featuring waterproof drivers, the Sonance RK63 and RK83 deliver clean articulate sound while standing up to the harshest conditions. Hide these in garden beds and have hidden audio outside.
RK63 - Outdoor rock speaker
RK83 - Outdoor rock speaker

---
Patio Series
New Sonance Patio Series 4.1 system is designed for smaller outdoor spaces. The Patio Series can be expanded to an 8.2 system.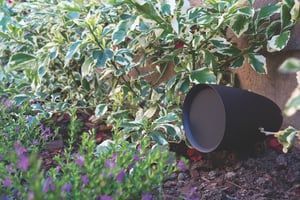 Building on the concept developed from the Sonance Landscape Series, Garden Series and Sonarray Series the Patio Series answers the question that has been asked regards a solution for a smaller space.
Sonance stands firm in the belief that speakers should blend in with the design of the space and be comfortable to listen to.
The Patio Series System of four all new satellites and one all new 8" in-ground subwoofer now gives integrators the ability to provide a solution for spaces up to 100 sqm.
The texture, brown finish and design of the Satellites and sub has been refined and developed to ensure the speakers become hidden with the natural elements of the landscape, blending into the surroundings.
The system is fully weather proof and designed to provide a long trouble free life outside.
The new Patio Series is the latest solution and replaces the outgoing Sonarray Series. It not only offers a 4.1 starting point for smaller spaces it is also expandable to an 8.2 System for areas up to 200sqm. These can be driven off the Sonance SR-2-125 DSP Amplifier.
Read more about The Patio Series
Read more about The Patio Series System
See "Mini Ibiza in your garden" installation

---
Garden Series
For even higher quality sound or higher SPL and larger areas step up to the Sonance Garden Series 8.1 System ( which can be expanded to a 8.2, 12.2 or 16.2 system ).
The Garden series offers high performance 4" 2 way satellites combined with a 10" subwoofer. Garden Series gives a balanced even sound coverage across a space combined with flexible layout options.
Garden Series borrows performance design elements from the industry-leading Sonance Landscape Series products and creates a system ideal for outdoor areas up to 325 square metres. Sonance Garden Series is the perfect balance of performance and simplicity in an outdoor audio system.


---
Sonance Landscape System – SLS
70 / 100 v or 8 Ohm
From the pioneers of performance landscape audio, Sonance Landscape Series ( SLS ) is engineered for ultimate performance in any outdoor space, SLS paves the way for premium audio in outdoor environments.
Fully Scalable, Totally Expandable
Sonance Landscape Series is totally scalable to suit any size space and can be expanded at any time afterwards as needed. The 70 volt/100 volt system utilizes a daisy-chain configuration, making installation as simple as running the appropriate 4-core cable around the perimeter of the space and connecting the satellite speakers and subwoofers in an alternating left / right configuration.
Quality Built for the Elements
Sonance Landscape Series was designed to operate under the most extreme weather conditions, from -20˚ to 190˚ F (-29˚ to 88˚ C). Triple-sealed enclosures, waterproof connectors and marine grade components ensures SLS will stand up to the harshest elements Mother Nature dishes up, including surf, sun, sand and snow. It is this quality and durability that will guarantee years of reliable entertainment.
Flexible Mounting Options
Sonance Landscape Series satellite speakers feature versatile mounting hardware options, allowing them to be positioned strategically to create the optimal sound for any space. Ground stakes are perfect for garden beds, while the surface mounts make mounting onto tree limbs or in pergolas a breeze.
To locate a Sonance dealer click here.
To speak to someone from our friendly Sonance team, click here.