Sonance have built a reputation for brilliant architecture and genius design and their INVISIBLE SERIES is no different. This new series paves the way in ultimate minimalism by replacing protruding fittings and unnecessary design elements with flush fixtures, offering audiophile quality and ease of installation.
The benchmark for performance and installation flexibility for invisible speakers.
Fully concealed within walls or ceilings for a totally invisible result.
70 / 100 Volt with 8 Ohm bypass
6 different voltage tap settings.
E.A.S.E. data available.
170º hemispherical dispersion to achieve wider coverage with fewer speakers.
Can be finished with up to 1/8" (3mm) of flexible material including finishing compound and paint, venetian plaster, wallpaper or wood veneer.
Built in enclosure to reduce sound transfer to adjacent spaces.
Used in luxury retail boutiques including Louis Vuitton, Gucci, Prada, Miu Miu, Fendi, Barney's of New York and Tom Ford.
UL Rated: 2043; 1480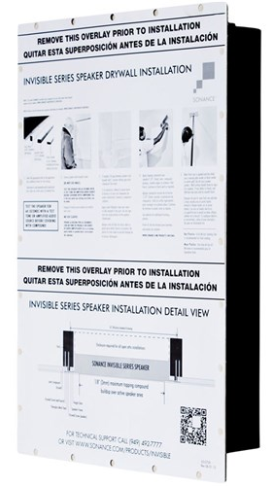 ---
The IS4 C combines a high-quality and reliable install with top of the line sonic performance and zero visual intrusion.
The world's best sounding invisible speakers
Best in class 170 o dispersion
The IS4 C is purpose built for commercial applications
UL Rated: 2043; 1480
Built in enclosure to reduce sound transfer to adjacent spaces.
These units are ideal for any commercial or residential environment where 70 or 100 volt systems are in place. With an extended bandwidth and wide dispersion these loudspeakers are ideal for mounting in the ceiling or walls in airports, hotels, boardrooms, cruise ships, casinos, convention centres, restaurants, offices, houses of worship and retail stores.
The IS4 C's polypropylene diaphragm provides distinct woofer, mid-range and tweeter radiation areas to offer perfect audio in foreground music, public address sound masking and paging applications.
The series features wide dispersion (170° conical) ensuring adequate coverage in open or larger areas. The IS4 C features a solid metal frame with an integrated steel enclosure providing around 20dB of noise reduction. Connection is made via a barrier strip that is covered with a steel plate that features a connection point for 1/2" conduit.
The IS4 C is transformer-coupled with 48W, 24W, 12W, 6W, 3W, 1.5W, 0.5W taps and 5-ohm bypass that can be selected from the speakers enclosure.
To locate a Sonance dealer click here.
To speak to someone from our friendly Sonance team, click here.