Don't round out your outdoor entertainment area with a cheap indoor TV. SunBrite™ TVs* are designed specifically for professional integrators like yourself.
Every component of a SunBrite™ TV* was specifically designed to handle the harsh nature of...well, nature. Stainless steel and powder-coated aluminum is used to resist the corrosive effects of water and humidity. Protective gaskets, stripping, and grommets are specially selected to battle the harmful effects of salt air and sunlight. Some models even feature a protective screen for those parties that get a little too rowdy.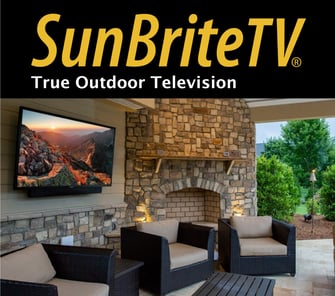 No matter the climate or configuration of your install, there's a SunBrite™ TV* to match. Each SunBrite™ TV* was designed for a specific application. Simply determine your install location, and then match it with the corresponding model.
Veranda | Full Shade
Stop using an indoor TV to finish your screened-in porch or patio install. Now there's a true, outdoor-rated, 4K HDR TV that is brighter, safer, reliable, and more profitable to you. Introducing Veranda – the world's first weatherproof TV built for full shade and priced to conquer those outdoor installs.
Signature | Partial Sun
The innovative Signature series features a bright, 700 NIT screen with TruVision™ anti-glare technology for a brilliant picture on the brightest days. With a 4K HDR display your clients get flawless outdoor entertainment for years to come.
Pro | Full Sun
Designed to withstand the harshest environments, the Pro series is completely weatherproof and features a tempered glass shield to protect the screen in active environments.


*Please note that Built in tuners are not compatible for Australia and NZ
To locate an SunBrite dealer click here.
To speak to someone from our friendly SunBrite team, click here.