Integra 9.2 Network Receiver New Quad Core processor Chromecast, FlareConnect

The DRX-3.3 lets you create atmospheres throughout your home with up to three-zone audio distribution. A new quad-core SoC (System on a Chip) supporting 802.11ac Wi-Fi® for network multi-room audio, configures up to 5.2.4 channels of immersive 3D sound for movies and games.

The DRX-3.3 combines accurate, noise-free signal processing with high-current power for dynamic speaker control. The result is pure, rich and authentic sound. Integra's dynamic audio amplification delivers 90 Watts per channel (8 Ohms, 1 kHz, 0.08% THD, 2 Channels Driven) with 30 amps of high instantaneous current capability.

Perfect for Custom Installation

Integra products are designed and engineered to meet the demands of custom audio/video systems installers. The DRX-3.3 includes system integration connectivity such as RS232 and IP control with support for 2-way communication with 3rd party home automation systems. An infrared (IR) input and an IR output make for a clean, reliable installation and allow pass-through of IR signals to control other devices connected to the DRX-3.3, such as a TV or Blu-ray player. Three fully programmable 12 volt triggers can be used to raise/lower a projection screen, power on/off an external amplifier and open/close the drapes all with the touch of a button! An optional rack mount kit provide a clean, finished look when installed in racks and cabinets. Integra works closely with control systems partners such as Savant, Crestron, URC, and RTI, and supports Control4 Simple Device Discovery Protocol (SDDP) and AMX Device Discovery for simplified system integration.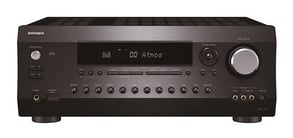 Coming soon - 9.2 Network AV Receiver New Quad Core Processor Chromecast FlareConnect

Integra DRX-4.3 - 9.2 Network AV Receiver will be available soon from Amber Technology's authorised dealer network.
With more distortion-free power, IMAX® Enhanced certification for IMAX® remastered movies, and Dolby Atmos® or DTS:X® surround-sound reproduction through 5.2.4 channels, the Integra DRX-4.3 opens the door to gold-class home theater complete with powered or wireless audio distribution to your favorite rooms.

The DRX-4.3 is Certified Select by THX. THX spends 40-60 hours testing over 2000 data points ensuring that the DRX-4.3 is capable of meeting rigorous audio and video performance standards for reference level, distortion free playback and includes THX Loudness Plus technology to bring out intricate details at lower listening levels.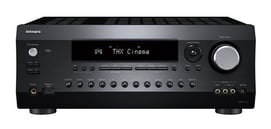 Smooth Analog Signal

Vector Linear Shaping Circuitry (VLSC) removes pulse noise generated in D/A conversion and allows the sound wave to be reproduced with extremely high fidelity for a smooth analog signal. This is applied to the front left and right channels, which are also bi-ampable.
Hear your music library as never before. High-Resolution means studio quality sound recording to extract additional elements, nuances and details far beyond the capabilities of standard CD to virtually put you in the room with your favorite musician. Integra makes it incredibly easy to access and enjoy audio files mastered in high-resolution (up to 192kHz/24-bit) stored on a computer, media server, network-attached storage (NAS) or USB thumb drive with zero loss in audio quality. Virtually every hi-resolution and lossless format is supported- 2.8 or 5.6 MHz DSD, as well as gapless playback of FLAC, WAV, ALAC and WMA files. Premium quality 384 kHz/32-bit digital-to-analog converter from AKM features unique low-distortion technologies to further ensure effortless high-quality playback and excellent sound quality.
To locate an Integra dealer click here.
To speak to someone from our friendly Integra team, click here.