Teachers can communicate more effectively with students in a classroom, or remotely, using a Newline Interactive RS Series interactive display.

Newline's RS Series includes its Interactive Ecosystem software allowing lecturers to seamlessly connect, communicate and engage with students, providing an efficient, productive and flexible learning environment.
The Ecosystem software is available across Newline's range and allows users to collaborate, annotate and co-edit documents through video-chat, whiteboard and document editing with students either in different locations, or through a student's own device in the classroom. The cast feature provides a platform for up to 200 students to digitally line up and wirelessly cast, sharing content to present, removing the fuss of connecting cables.
Lectures can be transformed into fun and interactive sessions, allowing students to pose questions and research with the teacher instead of just listening, evoking inspiration and creativity.
Multiple Newline displays across the network can be controlled and managed centrally via the ecosystem, allowing management and deployment of apps, configuration of display settings, licence management, while the digital display feature can be used to broadcast emergency messages or important alerts to appear on all, or some interactive panels.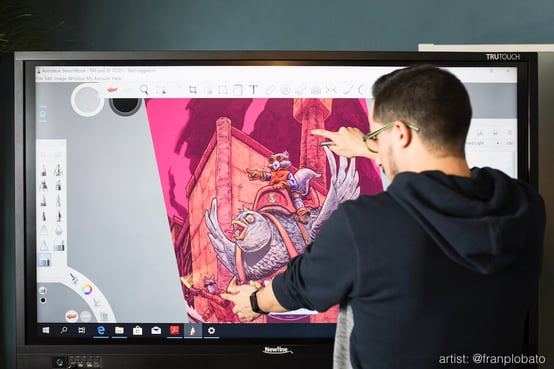 Operated by Android, the Newline RS Series has dual system compatibility with Microsoft Windows. An intuitive graphical user interface in 4K resolution and two 15-Watt inbuilt speakers provides seamless delivery of content.
New to the RS Series and the entire Newline range is Intelligent Touch, a new intuitive feature that recognises the size of the object the teacher is using to draw on the screen. For example, a stylus becomes a pen, a finger becomes a marker, a palm becomes an eraser.


The RS Series is available in four sizes: 65-inch, 75-inch, 86-inch and 98-inch.
To locate a Newline dealer click here.
To speak to someone from our friendly team, click here.