For FAT sound that won't let you down, if you are using DJ or DAW software live use the Radial USB-PRO instead of your computers headphone out.
This versatile 24-bit digital to analog audio converter and direct box was designed with the purpose of transferring digital files to a balanced mic level signal suitable for PA system recorder or broadcast feed.

Whether you are playing backing tracks on stage, giving an audio presentation, or performing the role of DJ at an event, the USB-Pro is the easiest way to provide a high quality noise-free connection between a laptop and any sound system.
Radial USB-PRO
obtains its power from the USB connection automatically configuring and adjusting itself to most computers without having to use special drivers to function.
The audio can be tested by using the front panel earphone outlet, gradually adjusting the level to suit. A mono switch can also be activated for testing for phase issues or to send the output to two separate audio systems.

Side access switches enable the user to introduce isolation transformers which are responsible for eliminating hum and buzz caused by ground loops. This is supplemented with a ground lift switch that lifts pin-1 on the two XLRs. The USB-Pro can be used for audio playback, system testing and for transferring digital audio files to analog for processing.

Packed with some cool functionalities including a built-in headphone amp for testing, transformer isolation, it may be switched in on each channel to eliminate ground loops, mono switch to simplify signal path by summing the stereo signal to mono to reduce the channel count or feed two sources simultaneously.

Radial USB-PRO plays digital files on the PA, it allows users to listen to artists songs in studios, it can also be used as an interface for DJ mixers or even as a play back AV device for presentations in stereo.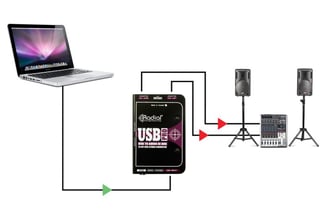 Features

• High performance 24-bit converters
• Automatically installs – no special drivers needed
• Built-in headphone amp for signal testing
• Transformers may be switched in to eliminate noise
To speak to someone from our friendly team,
click here.