An AV receiver acts like the brain of the audio system, driving the loudspeakers, decoding surround sounds formats, and switching between audio and video components. For movie-watching and audio entertainment installations in home cinema or multi-room environments, a cooling system for AV equipment is essential, as it can be extremely beneficial in the long run.
Most people don't upgrade audio equipment often, however, their lifespan can still shorten through consistent subjection to heat. Futureproofing an existing AV system can be extremely valuable as it can prevent overheating, which may lead to system failure or even fires.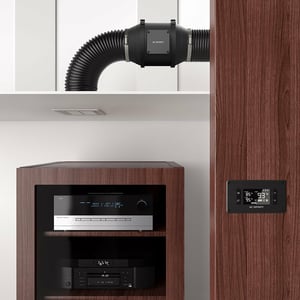 It is always a good idea to check an AV box's temperature to make sure there's no unusual heat output. The majority of the AV systems sit below the TV screen and its cabinets door are rarely open during operation.
Hot air naturally rises up, so that's the best direction to direct it away from your equipment. If a top exhaust isn't an option, heat can be expelled from the front and the rear with a component cooler.
AC Infinity make a great range of cooling systems that have exhaust fans in all different locations to suit the specific requirements on an individual installation.

To speak to someone from our friendly team, click here.

To locate a AC INFINITY dealer click here.