Applications requiring a bright, reliable, large screen display can benefit from the compact and powerful single-chip DLP E-Vision laser 5000 projector from Digital Projection.
Engineered with the same technology found in all of Digital Projection's large screen display projectors, the E-Vision Laser 5000 offers 20,000 hours of stable and near maintenance free imaging performance.
There are multiple benefits to installing a laser projector rather than a traditional lamp projector. These include: the elimination of lamp replacements, long term and predictable brightness, uninterrupted system operation, reduced maintenance costs and faster return on investment.
The E-Vision laser 5000 is a perfect solution for applications where the projector needs to be placed at an angle. Digital Projection's MultiAxis technology allows the E-Vision LASER 5000 to be oriented in nearly any position for installation flexibility and application creativity.
To assure simplicity, a standard zoom lens and a multitude of connectivity options are featured. HDBaseT® interface supports transmission of uncompressed high definition video over standard CAT5e/6 LAN cable, while Mobile High-Definition Link (MHL™) connection allows content from smartphones, tablets and portable consumer electronic devices to be seamlessly projected.
The E-Vision laser 5000 serves as a flexible imaging tool for large screen applications requiring an affordable, bright, dependable and quiet solution.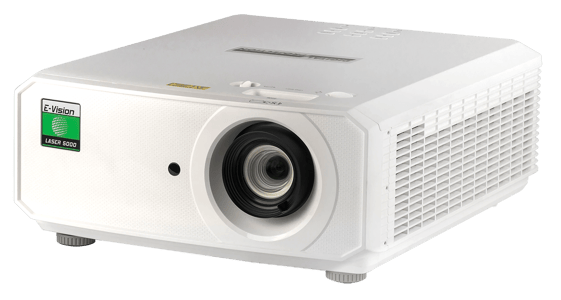 Key features
5,500 lumens
20,000 hours of stable illumination
HDBaseT® includes audio, Ethernet 100BaseT and RS232/IR control
Up to 100m projection
HDMI 1.4a for side by side, frame packing, frame sequential and top bottom 3D formats
Synchronisation of active 3D glasses
Mobile High-Definition Link (MHL™)
Digital Projection E-Vision Laser 5000 WUXGA RRP $5699
Find your local authorised Digital projection dealer here.