ALR = Ambient Light Rejection and is a type of projections screen that can be used in rooms with some form of ambient lighting yet still provide a sharp, accurate and vibrant picture from a projector.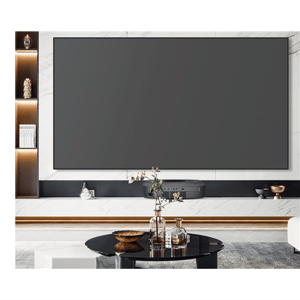 The most common screen surfaces reflect the incoming light uniformly in all directions. The light is reflected back in many angles, rather than just at one angle.
An ALR screen works by selectively reflecting light back to the audience. This effect is achieved by positioning the projector and screen in such a way that the projector's light is bounced towards the audience, while the other light in the room is reflected back in some other direction.
The Grandview screens are meant to be used with ultra-short throw projectors which are positioned very close to the screen and can project upward on to this surface when positioned at the below the screen.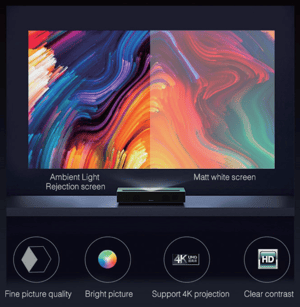 Grandview ALR Fixed Frame Screen - 100", 16:9, Image Size 2214 x 1245mm, Ultra Short Throw Tabletop AND Grandview ALR Frame Screen - 120", 16:9, Image Size 2656x1494mm, Ultra Short Throw Tabletop

This Ambient Light Rejection screen is made of a new microstructure design. The surface features technology that eliminates ambient light. This screen is specifically designed to be used with short-throw projectors. It boasts a high level of contrast and the best possible viewing characteristics under a strong ambient light environment.
To locate a Grandview dealer click here.
To speak to someone from our friendly Grandview team, click here.