Every once in a while, something comes along that tears up the rulebook and revolutionises an industry. This is one of those moments: the Satellite Modular Laser System from the Visionaries of the display industry - Digital Projection.

As promised, the Satellite MLS will make its full EMEA debut at this year's ISE. This ingenious new technology offers a small number of simple building blocks that allows users to address a wide range of applications, from single projector installs to complex, multi-channel domes, caves and simulators.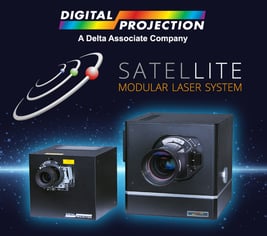 The cornerstone of the system is the separation of the light source, with its associated power and thermal management, to a remote location, which enables a small, compact projection 'Head' that only contains the minimal optical and video processing.
The projector 'Head' is fundamentally compact, quiet, light-weight and consumes very little power. This offers huge benefits at every stage of a system design, from transportation and installation to serviceability and lifespan. By separating the projection Head from the light source and linking the two by robust and flexible fibre-optic cables up to 100m long, Digital Projection's latest innovation offers the installer many more options, particularly where space and access are restricted.

Where RGB laser illumination used to be the preserve of only very high-end applications, the Digital Projection Satellite MLS system will make this technology accessible to the wider AV market, at a cost-effective price point.
The Satellite MLS will be developed around WUXGA, Native 4K and 8K resolutions and will also incorporate Digital Projection's industry leading 'MultiView' technology.
Given the modular design of the system, there can be a one-to-many, or many-to-one relationship between the light sources and the projection Heads.

In addition to the many logistical, installation and performance benefits of Satellite MLS – including modularity, small size, low noise and low power consumption – users will benefit from enhanced system longevity with reduced need for servicing.
Each projection Head is designed with a closed-loop cooling system, essentially sealing all of the critical optical components from ingress of contaminants. A further benefit of the reduced thermal dissipation and small size is that supplementary environmental enclosures become easier to design and manufacture, further reducing total system costs and complexity.

🆕 Get in touch with your account manager to find out the latest news and updates for the Satellite System range.
To locate a Digital Projection dealer click here.
To speak to someone from our friendly Digital Projection team, click here.